Shopify POS is a Point-of-Sales system that all Shopify merchants have access to, including those from Malaysia. While it isn't automatically available, it's easy enough to add the feature. You only have to add the Point of Sales channel in your dashboard:
Once you have the POS channel added to your store, you can now use it to check out orders in person. It's useful for merchants who have an offline store, or sell in pop-ups or markets every so often.
But is it a good enough POS system for Malaysian merchants?
Shopify POS Lite vs Shopify POS Pro: What's the Difference?
Before we continue with the article, it will be helpful for me to let you know there are two versions of the Shopify POS:
Shopify POS Lite, a free POS add-on that comes with all Shopify plans, and
Shopify POS Pro, the premium version of the POS system that comes with a lot of extra retail features
In this article, we'll mainly discuss the key features of the Shopify POS Lite.
Shopify POS Lite – Best Features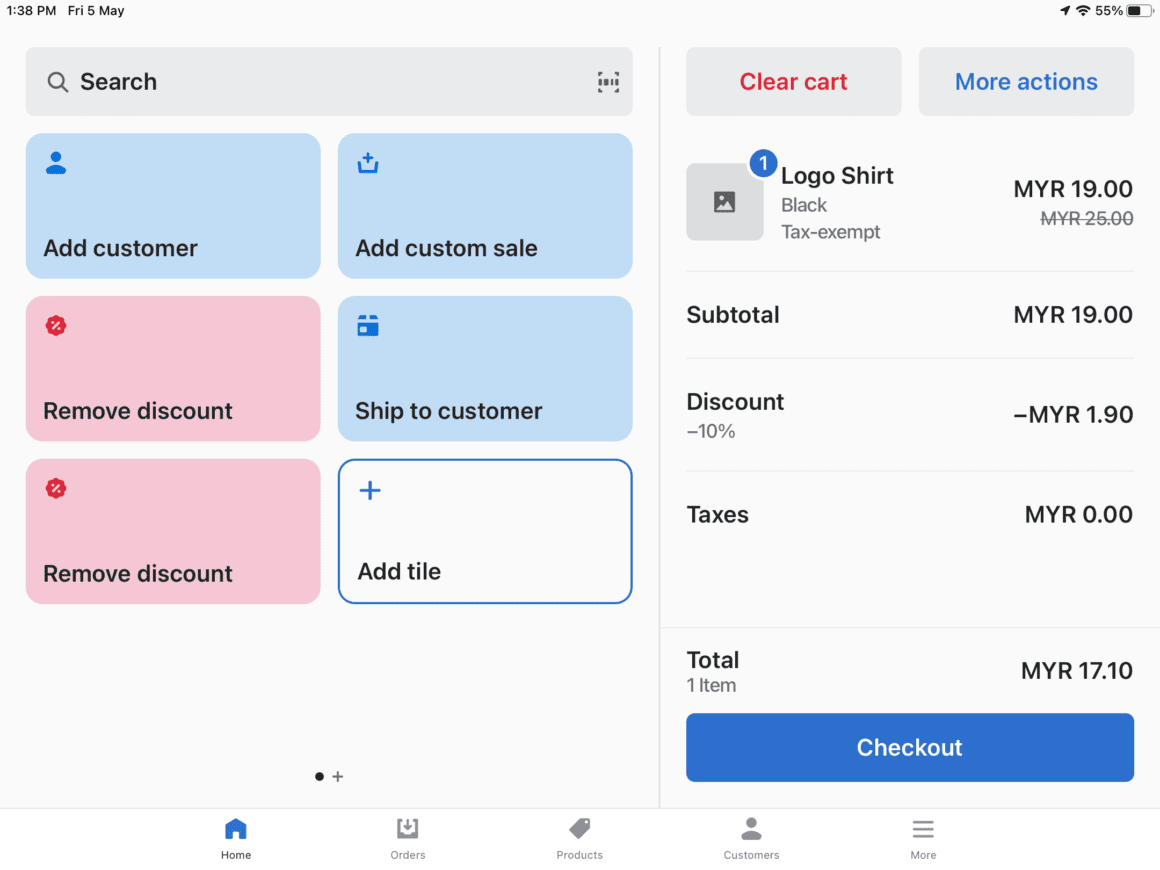 Other than being free, merchants who use Shopify POS Lite can
Manage and sync between your online store and your POS – sync products, orders, inventory, customers and other sales details between the two sales channels.
Multiple receipt options – customers can choose to have a printed receipt or have their receipt sent to them by email, or text.
Add customers to orders – add customers to the orders.
Offer discounts – provide discounts by Percentage (%), Amount or Discount code.
Extend the features of Shopify POS using third-party apps – download and use Shopify POS compatible apps like loyalty or referral programs.
Staff access – Let different staff members access the POS using unique PINs.
Scan barcode using device camera – you don't need to buy a barcode scanner if you don't have one yet.
Returns – handle returns directly on your POS and have the inventory updated in your online store.
The downsides of Shopify POS Lite for Malaysians
There are two main downsides to Shopify POS Lite that can be a dealbreaker for some. They include:
Payments
Shopify POS isn't compatible with any payment terminals or card reader devices commonly used in Malaysia. You can either accept the payments by keying in the card number manually or process the payment externally.
Basic POS features on Shopify POS Lite
Since Shopify POS Pro isn't available in Malaysia, sellers will find themselves hitting a ceiling when their needs grow. For example, advanced inventory management and staff management is only available in Shopify POS Pro.
So, is Shopify POS Lite enough for Malaysian sellers?
With its basic features, Shopify POS Lite is a useful free add-on for merchants with light POS requirements. These include primarily online sellers who occasionally sell offline in markets or pop-ups, or small retail store owners with a small team.
However, Shopify POS Lite is severely limiting for merchants of larger businesses and a more complex set up. For business owners like these, Shopify POS Pro would be a better choice.
Are you a Malaysian who uses Shopify POS? What do you think of it?
Image by user18526052 on Freepik