Most sellers on Shopee have not maximised the full potential of all the marketing tools available inside their Shopee Marketing Centre. A common reason for this is because they aren't sure how each of the tools can help them.
Although using them may add to your overall cost of selling on Shopee, the ROI can be worth it.
What are the Marketing Tools Available in Shopee Marketing Centre?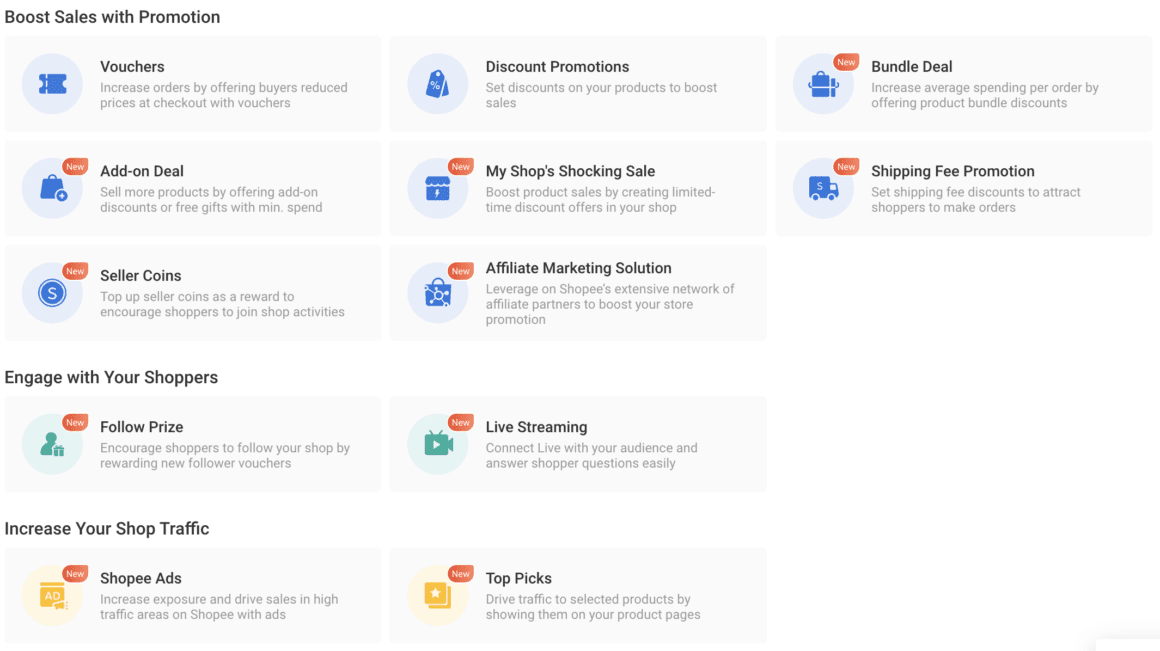 At the time of writing, there are a total of 12 tools inside Shopee's Marketing Centre:
Vouchers
Vouchers can help increase sales by reducing the cost of purchase. They are the oldest promotional tools in the book.
Inside the Marketing Centre, you can create vouchers that can be used shop-wide, or specific to selected products.
These vouchers can take the form of:
Fixed amount discounts
Percentage discounts
Coins cash back
Read Shopee's article on Voucher Promotions
Discount Promotions
Discounts can drive sales to selected products for a specified period of time by lowering the prices of these products.
Read Shopee's article about Discount Promotions
Bundle Deal
You can encourage buyers to buy more by creating bundles of similar products, or the same product. This is a particularly effective marketing tool for products that require frequent replenishments.
Read Shopee's article about Bundle Deal Promotions
Add-on Deal
Add-on deals is a feature in Shopee you can use to set up Buy One Get One (BOGO) deals in your store. BOGO deals increase cart size by making the purchase of a product or bundle of products more attractive by offering another relevant product at a discounted price, or for free.
Think: Buying a bottle of Shampoo at regular prices and getting a 10% off Hair Conditioner.
The BOGO offers you can set up with Add-on deals in Shopee are:
Buy X and get Y for a discounted price
Read Shopee's article on Add-on Deal Promotions
My Shop's Shocking Sale
Unlike the general site-wide Shocking Sale campaign on Shopee, the My Shop's Shocking Sale feature lets you set up your very own in-store shocking sale.
Shocking Sales activate a buying frenzy by using the combination of a time-urgency and unbelievable prices.
When a buyer arrives at your Shopee store, they might be tempted to buy products from your shocking sales section with urgency, increasing sales.
Read Shopee's article on My Shop's Shocking Sale Promotions
Shipping Fee Promotion
Adding a Shipping Fee promotion to your shop can increase sales. With this tool, you can offer your customers a discount on their shipping fee when they meet a minimum purchase. This will encourage buyers to buy more to meet the minimum purchase eligible for the shipping fee discount.
Read Shopee's article on Shipping Fee Promotion
Seller Coins
If you use livestream as a channel for getting sales from your customers, Seller Coins can be a particularly good promotional tool.
You can top up your Seller Coins, and then use Seller Coins as a reward to attract customers to watch your Livestream.
Read Shopee's article on Seller Coins Promotion
Affiliate Marketing Solution
Shopee's Affiliate Marketing Solution (AMS) allows sellers to grow their revenues using affiliate marketing. At the moment, AMS is only available to select sellers. If you don't have it yet, you can apply.
With AMS, sellers can work with four types of partners to increase store sales:
Coupon & cash back platforms
Price comparison platforms
Content publishers, and
KOLs
Read Shopee's presentation on Affiliate Marketing Solution
Follow Prize
Get customers and visitors to follow your page for a prize. Your new followers will get updates from your shop. This will increase the chances of having a sale from your followers.
Prize is a discount voucher (with conditions).
Read Shopee's article on the Follow Prize
Live Streaming
For some product types, live streaming is an effective way you can reach your customers. With Shopee's native live streaming tool, you can set up live streaming sessions right inside Shopee so your customers and followers can join the streams.
Shopee Ads
Ads on Shopee are one way you can make your shop and product listings more apparent on the platform.
There are 3 types of ads you can run on Shopee:
Search ads – shop or product listing appears when customers search for a target keyword
Discovery ads – product listing appears when customers are viewing a similar product
Boost ads – product listing appears in high traffic areas
Read Shopee's article about Ads
Top Picks
Top Picks lets you showcase featured products from your shop when customers browse product listings in your store. This can help boost sales to new products or your bestselling ones.
Read Shopee's article on Top Picks
Need Help with your Shopee Shop?
I'm an eCommerce consultant with experience around growing eCommerce revenues.
Book a call with me to discuss about your needs.