Choosing the right logistics partners to deliver your products to your customers can be the difference between having happy customers who would buy again and unhappy customers who swear never to buy from you again.
Although most people are familiar with shipping companies such as Poslaju, GDex, and SkyNet, which services are often limited to delivery only, fewer people are familiar with another kind of shipping companies which, on top of helping to deliver, also help to collect money from your customers.
This second kind of delivery company offers a service known as Cash on Delivery or COD for short. When your customer opts for COD, this means that they do not pay until the moment they receive the products.
This is almost the same as them buying from you in person, where they pay you in person and then you give them the product they have selected.
In this post, we will look at the benefits of offering COD as a shipping option for your customers. More importantly, we will be comparing the companies that offer COD so that you can choose the right one for your online business.
Let's dig in.
Summary Table
Review of: Ta-Q-Bin and NinjaVan / Use: Cash on Delivery Service
Ta-Q-Bin vs NinjaVan Cost comparison
| | |
| --- | --- |
| Ta-Q-Bin | NinjaVan |
| RM8 for collections up to RM1,000 | RM8 for collections up to RM1,000 |
Cash on Delivery Advantages and Disadvantages
Advantages
Disadvantages

Offer customer an additional payment option for customers who feel that online payment is risky
Reach more customers and increase sales

Limited coverage in Malaysia
Need to open corporate account with minimum monthly deliveries
Summary: Offering a Cash on Delivery option for your customers can help you reach customers who are not confident about making payments online.
Ta-Q-Bin and NinjaVan are two of the most popular COD service partners in Malaysia. The downside for both companies is that they only cover a limited region in Malaysia and require you to open a corporate account with them to enjoy their COD services.
Between the two logistics providers, NinjaVan offers a better value for money for collections up to RM1,000.
Should you provide COD for your business?
Unlike selling in countries where most people are confident with buying online, some people in Malaysia are just afraid of parting with their money before they see what they bought in front of their eyes.
Like my mother.
When I first introduced her to online shopping, she asked me, 'Are you sure it's not a scam?'
She had been reading too many articles on Sin Chew Daily about people who had been scammed out of a few thousand of their hard earned RM for a laptop that never arrived.
Luckily (or unluckily), she got over her fears and eventually became a big fan of shopping online.
Although I successfully converted my mother, there are not yet as confident and would like to pay via COD.
If they came to your website and don't see a COD option, alarms go off their heads. Not wanting to be scammed, they most likely leave without buying anything.
By giving your customers an option for COD, you get to sell to a bigger audience that is more comfortable with COD than paying online.
So even if you haven't used COD for your business before, consider if your online business could benefit from it.
Cash on Delivery (COD) Services in Malaysia
Now that you know how COD as a payment option can benefit your business, let's look at some of the ways you can do COD in Malaysia.
Do it yourself
Cash on Delivery is what it is: you bring the product to your customer. They give you cash.
This is a simple enough thing that anyone with a car can do.
When I started my first online business selling power banks, all my customers opted for COD.
So my brother and I went out many times a day to meet with customers just to make that exchange.
The frustrating thing about doing it yourself is that you have to manage timing etc which can be troublesome.
It can be tough to handle logistics as well as be on top of your other activities in your business.
Hiring staff just to send items via COD can also be problematic at times. What if the staff collects the money and makes a run?
The good news is that you don't always have to do it yourself. Of course, the downside is that you will need to pay them to do it for you.
Here are two options for getting someone else to do it for you.
Let's look at them:

Ta-Q-Bin is one of the most popular COD services in Malaysia. It is a delivery service by the Japanese company Yamato.
The COD service is made available through Ta-Q-Bin's Collect service.
The rate for COD depends on the product price: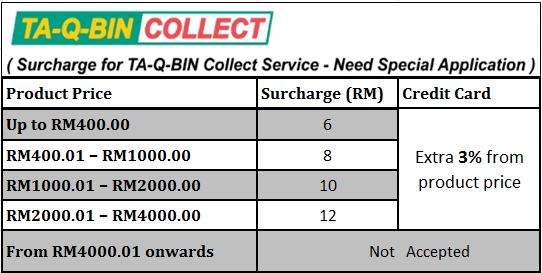 Image from my.taqbin.com
Here is what it looks like to use Ta-Q-Bin's COD service: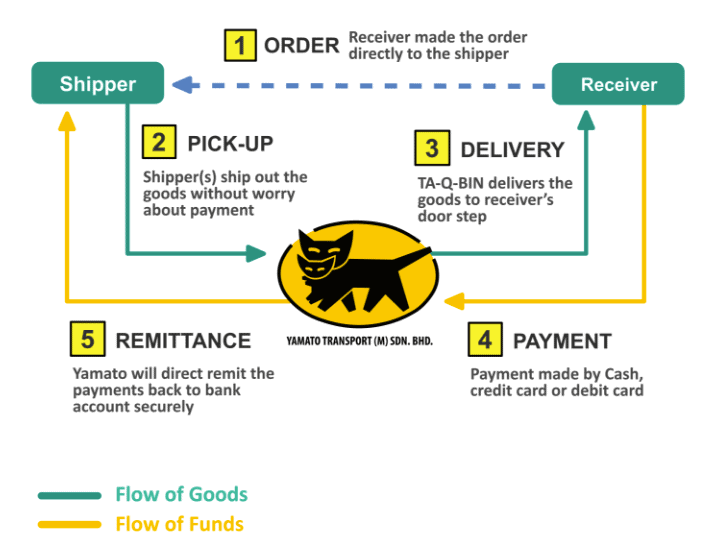 Image from Ta-q-bin.com
The downside is that Ta-Q-Bin's services are limited to select regions.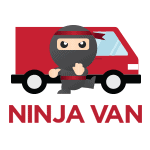 The next COD logistics partner is NinjaVan. Started in 2014, NinjaVan is a relatively new player in the logistics field.
It costs RM4 for collection of products up to RM1,000.
However, like Ta-Q-Bin, NinjaVan only offers COD to a limited part of Malaysia. Again, this means that you won't be able to offer this service to all your customers.
If your customers are from a specific part of the country, you may want to find out if it is covered by NinjaVan by sending them an email at sales@ninjavan.co before proceeding to use their services.
Comparing Ta-Q-Bin vs NinjaVan
Now that we have seen three options for you to get your COD done, let's place them side by side and see how they compare with one another and which you should pick.
| | | |
| --- | --- | --- |
| | Ta-Q-Bin | NinjaVan |
| Cost of collection (up to RM1,000) | RM8 | RM4 |
| Coverage | Limited | Limited |
Placed side by side, the biggest differentiating factor between Ta-Q-Bin and NinjaVan is cost.
For collections of up to RM1,000, it is cheaper to use NinjaVan than Ta-Q-Bin.
However, both NinjaVan and Ta-Q-Bin have limited coverage in Malaysia.
Other than that, the biggest downside for both Ta-Q-Bin and NinjaVan's COD service is that you will need to open a corporate account with them before you can use the COD service.
A corporate account usually means having to send a minimum number of parcels each month. For example, if you would like to use NinjaVan's COD service, you will need to open a corporate account and send a minimum of 100 parcels each month.
When you are just starting out, this may not be feasible for you since you may not have 100 orders every month.
The Verdict: Which Should You Go For?
Ta-Q-Bin: Best if You Have a Range of Differently Priced Products
Ta-Q-Bin's offers COD deliveries up to RM4,000. This means that if you have a variety of differently priced products, you can choose to use Ta-Q-Bin's services.
Again, before you sign up for Ta-Q-Bin's Collect services, you will need to check if they cover the region where your customers are likely to be located in.
NinjaVan: The Cheapest for Collections up to RM1,000
As we have seen, at RM4, NinjaVan offers the cheaper rate for collections up to RM1,000. If your products are mostly under RM1,000, NinjaVan's COD services will be more affordable for you.
But as with Ta-Q-Bin, before you sign up for NinjaVan's COD services, make sure you check to see if the area where your customers are located in are covered.
Conclusion
Giving your customers an additional payment option can increase your sales as customers who were wary about buying online before can now feel at ease because they can make payment only when the items they have ordered are in their hands.
Although you can do the COD yourself, this may take a lot of time away from your day-to-day business activities. Luckily, you can get professional logistics companies such as Ta-Q-Bin and NinjaVan to do it for you.
The drawback is that unlike normal shipping, COD services for both companies cover a limited region in Malaysia. Other than that, you will also need to sign up for a corporate account in order to enjoy the COD services offered.
Nonetheless, if your orders are high enough to justify opening a corporate account and most of your customers are within the coverage areas, then offering COD services to your customers can be a good way to increase your online sales.
Have you used Ta-Q-Bin or NinjaVan's COD services before? Share your experience with me in the comments below: