SiteGiant powered my e-commerce site when I first started selling online in 2012.
Back then, there weren't as many e-commerce solutions made by locals and SiteGiant appeared to be the best one to me. For what I paid for it, I gained a lot more.
But it's 2017 now. A lot has changed. More local e-commerce solutions have become available. SiteGiant is no longer the easy choice when it comes to picking an e-commerce solution provider.
This is a good thing. As someone wanting to start selling online, you get more choices and value today than ever before. You don't have to pay as much as I did when I started in 2012.
This is also a bad thing. With so many choices, which one should you pick? The number of choices and features available today can be dizzying.
Should you go for SiteGiant or another local e-commerce solution provider?
Which e-commerce solution covers more of the features you want?
In this post, I will cover the pros and cons of using SiteGiant and then stack it up against another popular e-commerce solutions provider, EasyStore. This way, by the end of this post you will have a better idea of which e-commerce solution to go for.
Are you ready?
Let's dig in.
SiteGiant At a Glance
Review of: SiteGiant E-commerce Website Solution
Use: Easy set up of E-commerce online store
 Training
Template Designs
Value for Price
Applications Selection
Provides 1-day e-commerce training. Useful for newbies.
Slightly less modern when compared to similar e-commerce solutions. But easy to build a website with the drag-and-drop website builder.
Less value for money when compared to similar website solutions.
Limited to the ones chosen by SiteGiant
 Pros:
Cons: 
 Summary: SiteGiant is a good solution for anyone looking for an all-in-one solution whereby the domain, SSL certificate and e-commerce solution are managed under a single provider.

I've put this review together to help you decide if SiteGiant's features fit what you are looking for in an e-commerce solution.

Check out SiteGiant's Plans Here

(Starts at RM590/year)
SiteGiant Pricing
SiteGiant comes with four pricing packages with the UniCart Basic being the cheapest at RM590 a year and the UniCart Business the most expensive at RM2,390 a year. SiteGiant only offers yearly plans. Monthly plans are not available.


Pros of Using SiteGiant to Set Up Your E-commerce Store
Let's take a look first at all the things you'll like about SiteGiant:
You'll get a free Domain (Worth RM60/year)
SiteGiant throws in a free domain for all their e-commerce plans. So far SiteGiant is the only Malaysian e-commerce solution provider to give this.
A domain name is easily worth RM60 (US$15) a year so that's a great bonus to have.
You'll get a free SSL Certificate
An SSL Certificate is something you'll need when you operate an e-commerce store online. It helps to keep your customers' information safe when they make transactions on your website.
An SSL Certificate typically costs about RM40 (US$9) a year. SiteGiant includes a free SSL certificate with all its e-commerce plans.
In addition to the free domain name, you would save roughly RM100 a year on domain name and SSL certificate by using SiteGiant.
You can join a free full-day, hands-on training about e-commerce
SiteGiant has been in the e-commerce industry for more than 10 years. As their customer, you will be able to tap on their experience by joining a full-day, hands-on training on e-commerce.
This will be especially useful for you if you have no previous e-commerce experience. SiteGiant will guide you through how to set up your e-commerce store in SiteGiant as well as provide you insights into the e-commerce landscape in Malaysia.
This training is also a great place for you to meet other e-commerce sellers like yourself.
SiteGiant is one of the few local e-commerce solution providers that provide a training like this for their users.
You can sync your products on SiteGiant with online marketplaces like Lazada, Lelong and more
If other than your own e-commerce store you would like to sell on online marketplaces like Lazada, Lelong and 11Street, you can do so automatically using SiteGiant's online marketplace sync tool.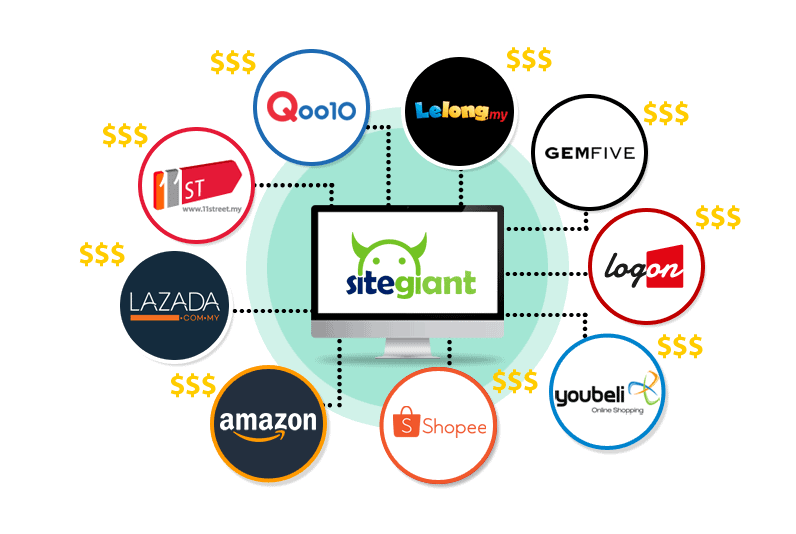 The sync tool allows you to easily sync all the products in your SiteGiant store onto the online marketplaces of your choice. This means you don't need to upload the same product one at a time onto each online marketplace.
By using this tool you will be able to distribute your products to more places online, increasing your chances of making sales online.
The bad news is that this sync tool is available for all of SiteGiant's e-commerce plans except the UniCart basic plan. If you would want to take advantage of this sync tool, you will need to at least subscribe to a UniCart Pro plan.
You can easily customize your SiteGiant store using a Drag and Drop Layout Manager
SiteGiant has made it fairly easy for people with no technical background to make detailed customizations to their e-commerce store design by using the Drag and Drop Layout Manager.
So even if you don't know how to code, you can easily make changes to how your store looks.
Check out how the Drag & Drop Layout Manager works in the video below:
It's a pretty straightforward tool that I think most people who don't have any IT background will appreciate.
So far, SiteGiant is the only Malaysian e-commerce solution provider that offers a drag and drop layout manager of this type.
You can create invoices for 'offline' orders using the Manual Order Tool
As e-commerce is still at its early stages in Malaysia, not all of your customers will be willing or able to fully make an order online on your website or on an online marketplace.
Some of your customers may make an order with you through other popular channels such as Facebook, Whatsapp or WeChat.
For these orders, you will still be able to create an invoice for them and record them as part of your store sales by using the Manual Order Tool by SiteGiant.
This will make your job of accounting for all the sales that you have made easier in the long run.
So far, SiteGiant is also one of the few e-commerce solution providers that have this tool.
You can integrate your store with the GST-compliant AutoCount Accounting software
SiteGiant comes ready with the ability to integrate with the GST-compliant AutoCount Accounting software.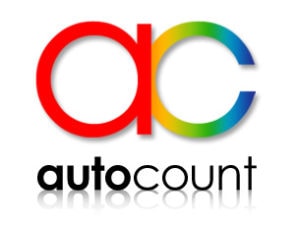 This sync will enable you to automatically account all your sales as they happen so you don't have to spend time doing them later.
Although it will cost you an additional RM150 a month for the software, it's easy to see how this integration will be helpful for you in the long run when you prepare your yearly account statements.
You can accept all kinds of Malaysian payments by syncing with MOLPay, iPay88 and 2CheckOut
SiteGiant also syncs with all major payment gateways in Malaysia such as MOLPay and iPay88.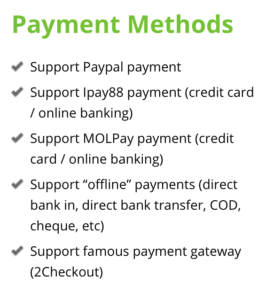 Along with the Manual Order Tool that I've mentioned above, you would have covered all the popular payment methods. This will give you an advantage if your primary customers are from Malaysia.
You can sync all your products on Facebook
Although not many Malaysians buy directly through a Facebook store, I think it can still be advantageous to have this extra channel for you to display your products online.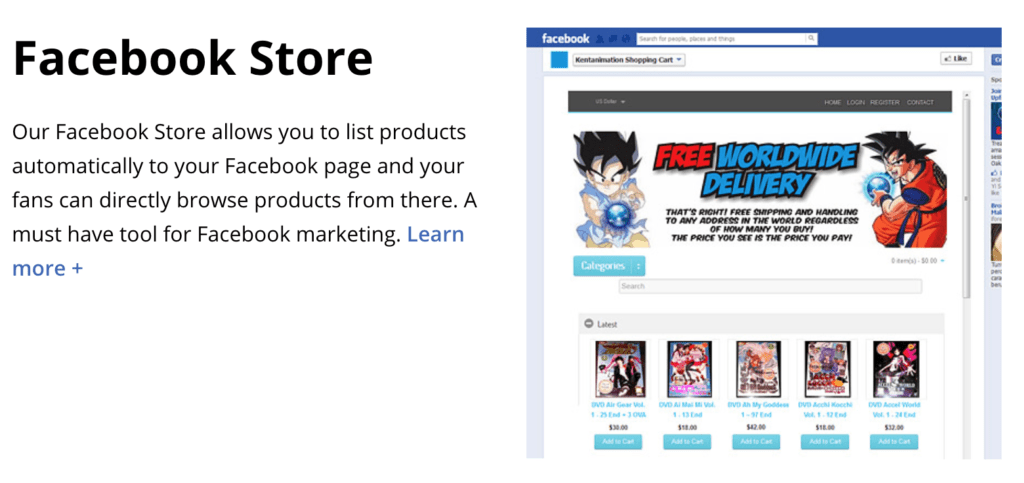 Since SiteGiant's Facebook store sync tool allows you to list all the products from your e-commerce site onto your Facebook store automatically, it will be possible for you to test if your customers are interested to buy through a Facebook store without spending too much of your time setting it up.
Cons
Now that we've looked at all the features I like about SiteGiant, let's take a look at the things I'm not really keen about:
You can only pay yearly. There are no monthly plans.
Unlike EasyStore which offers a monthly payment method, the only way to subscribe to SiteGiant is through yearly plans.
For some people, the yearly plans can be affordable but for people who are just starting out with a small budget, it can really be a big bite into their business capital on top of other things they need to pay for.
You can't test the system. There's no trial.
Before you subscribe to any of SiteGiant's plan, you are left guessing about the features inside.
Granted, SiteGiant is a reputable e-commerce solutions provider, but still, it would be much better if they would be able to provide a free trial period for people who want to get a feel of what it's like running a store using SiteGiant on a day to day basis.
Though so, there is an effort by SiteGiant to prevent buyer's remorse by allowing any potential buyers to set up a free consultation call with them:

Nonetheless, it would still be more efficient if potential buyers can actually log in to see a demo of how SiteGiant works without having to go through the hassle of contacting support.
You can only use a limited number of applications with SiteGiant
Although SiteGiant provides syncs with some of the most popular web applications such as iStoreiSend (fulfillment), EasyParcel (logistics), MOLPay and iPay88 (Payment), the number of applications is limited compared to what EasyStore has to offer.
So you really have to make sure that you don't need any additional applications outside of what SiteGiant has selected if you want to build your e-commerce store using SiteGiant.
Some of the templates are outdated
Although there are more than 30 templates to choose from, compared with other e-commerce solution providers, some of SiteGiant's templates can appear a bit outdated:

Though, this could just be me being a bit picky. If the layout design makes sense for your business, it would be good enough still ?
You can only accept payments using PayPal if you sell internationally
Since SiteGiant's payment gateway syncs are geared more towards Malaysian payment gateways like MOLPay and iPay88, you would not have any other much choices other than PayPal if you are selling to non-Malaysian customers.
If your customers are mostly from the U.S. where PayPal is still somewhat popular, you would still be able to get by, but for some other countries like Indonesia or China, you might find it more difficult to sell to them since you won't have their payment gateway of choice listed.
The Verdict: Should You Go For SiteGiant?
Score: 3 / 5
Alright, now that we've looked at the pros and cons of SiteGiant, the big question is: should you go for it?
More importantly, is it for you?
Here's what I think:
SiteGiant is for you if…
You don't want to handle domain and SSL certificate using a third-party
SiteGiant provides a truly all-in-one solution in that you don't have to manage your domain and SSL certificates using a third-party solution.
This makes your job of making payments and renewals much easier. Of course, if you have any problems with your domain or SSL certificate, you would also only need to look for one company instead of a few.
You are someone who prefers live-training to set up your e-commerce store
Most e-commerce solutions only provide online training, but if you are someone who learns faster when you are guided by someone in person, you will appreciate the live, in-person training that SiteGiant has to offer.
You have mostly Malaysian customers
If your customers are mostly from Malaysia, you will be able to accept payments from them using all the popular payment methods in Malaysia.
Now that we've looked at who should go for SiteGiant's e-commerce solution, let's now look who should not go for it.
Don't go for SiteGiant if…
You are picky about website template designs
As I've mentioned, some of SiteGiant's 30+ templates can look a little outdated compared to what other e-commerce solutions have to offer.
If you are someone who tends to be quite picky when it comes to your site design, you might find the templates SiteGiant has to offer a little frustrating to work with.
SiteGiant does not sync with an application you really need
As I've also mentioned, SiteGiant's applications choices tend to be limited when compared to e-commerce solution providers like EasyStore.
Make sure to do a thorough check to make sure that all the applications you really need are included before you sign up. If you can't find it listed somewhere on SiteGiant's website, I would recommend that you call SiteGiant or send them an email to double check.
If the application you really need is not available in SiteGiant, it's best you pick another e-commerce solution or you might feel very frustrated with the limitations on the long-run.
Your customers are mostly not from Malaysia
Although PayPal is included as one of the supported payment gateways, it is not the payment gateway of choice in every country. If for example, your customers are from China, you may not be able to properly serve them as you don't have the payment gateway of their choice listed.
Which Plan Should You Go For?
Now, if you've decided that SiteGiant is for you, then your next question will be:
There are four plans. Which one should I go for?
To help you make your decision I've analyzed and come up with my picks for the best and worst value SiteGiant plans. Let's take a look at them below:
Worst Value: UniCart Basic (RM590/year)
Of the four plans, UniCart Basic has the worst value.
The basic plan is the least attractive. At RM590 a year (RM49 a month) and not including any integrations, I wouldn't recommend this plan.
At half the price of the next plan, you can sell 4 times fewer products with the UniCart basic plan. Worse of all the UniCart Basic plan does not come with the sync with marketplaces tools like the other three plans.
If you like the pros offered by SiteGiant and want to use SiteGiant's e-commerce solution, I would recommend you to stay away from the UniCart Basic plan.
Best Value: UniCart Pro Plus (RM1,290/year)
At just RM200 more expensive than the RM1,090/year UniCart Pro plan, you can upload more than 2X the products.
Other than that, the UniCart Pro Plus plans also includes:
EasyParcel integration (logistics)
Cashback sites and affiliate network integration
Two free modules ('Also bought' and 'Image swapping' module worth RM350)
So if you like what SiteGiant has to offer and has decided to sign up for SiteGiant's e-commerce solution, I would recommend that you go for the UniCart Pro Plus plan.
Conclusion: Use SiteGiant If You Love Their Unique Features
SiteGiant's e-commerce solution is pretty unique when you compare it to other local e-commerce solution providers.
SiteGiant's plans include a free domain, free live training, a drag and drop layout manager and modules for manual order. These are features that less than three e-commerce solution providers provide in Malaysia.
On the downside, SiteGiant's e-commerce solution can be a little limited when compared to other providers. Its applications are limited to the ones selected by SiteGiant. There's also no trial for potential customers to test the solution.
Having said that, SiteGiant stands as a class of its own when it comes to e-commerce solutions. If you have found all the features you want in SiteGiant's solution and then don't mind the limitations then SiteGiant will be the best e-commerce solution provider for you.
Check out SiteGiant's Plans Here