This article may include links from our partners. When you buy through our site, we may earn a commission. Learn more.
Shopify and EasyStore are two of the most popular e-commerce website builders in Malaysia. With website builders like Shopify and EasyStore, you don't need to spend thousands of dollars hiring a tech guy to build an e-commerce website for you.
You can set up your entire e-commerce site yourself, even if you have zero technical skills.
With e-commerce website builders like Shopify and EasyStore, you can get your e-commerce site up and start earning money in a few days.
Cool, right?
But which one should you use? Should you use Shopify or our local EasyStore?
If you are asking yourself this question right now, keep reading. I will help you to discover which e-commerce website builder is the best for you.
Let's get started!
Summary: Shopify vs EasyStore
Features
Pricing
$29 – $299/month
(RM120 – RM1,200/month)
RM59 – RM499/month
Transaction fee
0.5 – 2.0%
0%
App integrations
Unlimited
10 – 50
Storage
Unlimited
Unlimited
Product uploads
Unlimited
Unlimited
Website Themes
100+ on Shopify, more via third-party sources
<30
Blog
Available
Available
Point-of-Sales (POS)
Available for all plans
Not available for EasyStore Lite
Resources
Thousands of articles on Shopify resources section and thousands more by Shopify users online
Very limited amount of resources on EasyStore blog and Help section
Sign up for Shopify
(14 Day Free Trial)
Sign up for EasyStore
(14 Day Free Trial) 
Summary: Shopify offers a more complete e-commerce website builder solution compared with EasyStore for a cheaper price and is my recommendation. With Shopify, you can add any number of apps to enhance your Shopify store's promotions, reporting, inventory management and more.
Moreover, you will have more website design options to choose from.
On top of that, Shopify also provides its users with thousands of articles and video resources for even newbies to get started.
The biggest drawback of using Shopify is that there is a transaction fee of 0.5 – 2.0% whereas EasyStore does not charge any transaction fees for using its platform. However, the features that Shopify provides more than make up for these added fees.
Test run Shopify for your own e-commerce business by signing up for a 14-day trial using the button below:
First, What's Shopify and EasyStore?
Shopify and EasyStore are both e-commerce website builders that allow you, the non-tech person, to build your own e-commerce website quickly.
While Shopify is made in Canada, EasyStore is made in Malaysia.
Each offers basic features that will help you to build an e-commerce website from A to Z by yourself.
So, what are the similarities and differences between Shopify and EasyStore?
Knowing this will help you to decide which e-commerce website builder to use for your e-commerce business.
First, let's take a look at their similarities:
Common Features Between Shopify and EasyStore
Drag-and-drop website builders
Both website builders feature drag-and-drop website builders so you can design your website layout without touching a single line of code.
Blogging options
Both website builders feature blogging options to help you optimize your e-commerce website for content marketing and SEO.
Unlimited products and storage
You can upload an unlimited number of products and there is no storage limit in each website builder.
---
Now that you know how the common features EasyStore and Shopify shares, let's now take a look at the differences between them and what makes one better than the other:
5 Ways Shopify is Better Than EasyStore
#1. Shopify is Cheaper for Same Features
Before EasyStore's recent price change, I would always recommend choosing EasyStore for being a budget-friendly e-commerce website builder solution.
However, now that the prices have doubled, I find EasyStore's pricing to be much more expensive than Shopify for fewer features.
Let's take a look at Shopify and EasyStore's pricing:


On the outset, it may appear like Shopify's cheapest plan at $29/month (~RM120/month) is more expensive than EasyStore's cheapest plan at just RM59/month.
However, if you take a good look into what the RM59/month plan offers, you will see that it offers just the bare minimum features: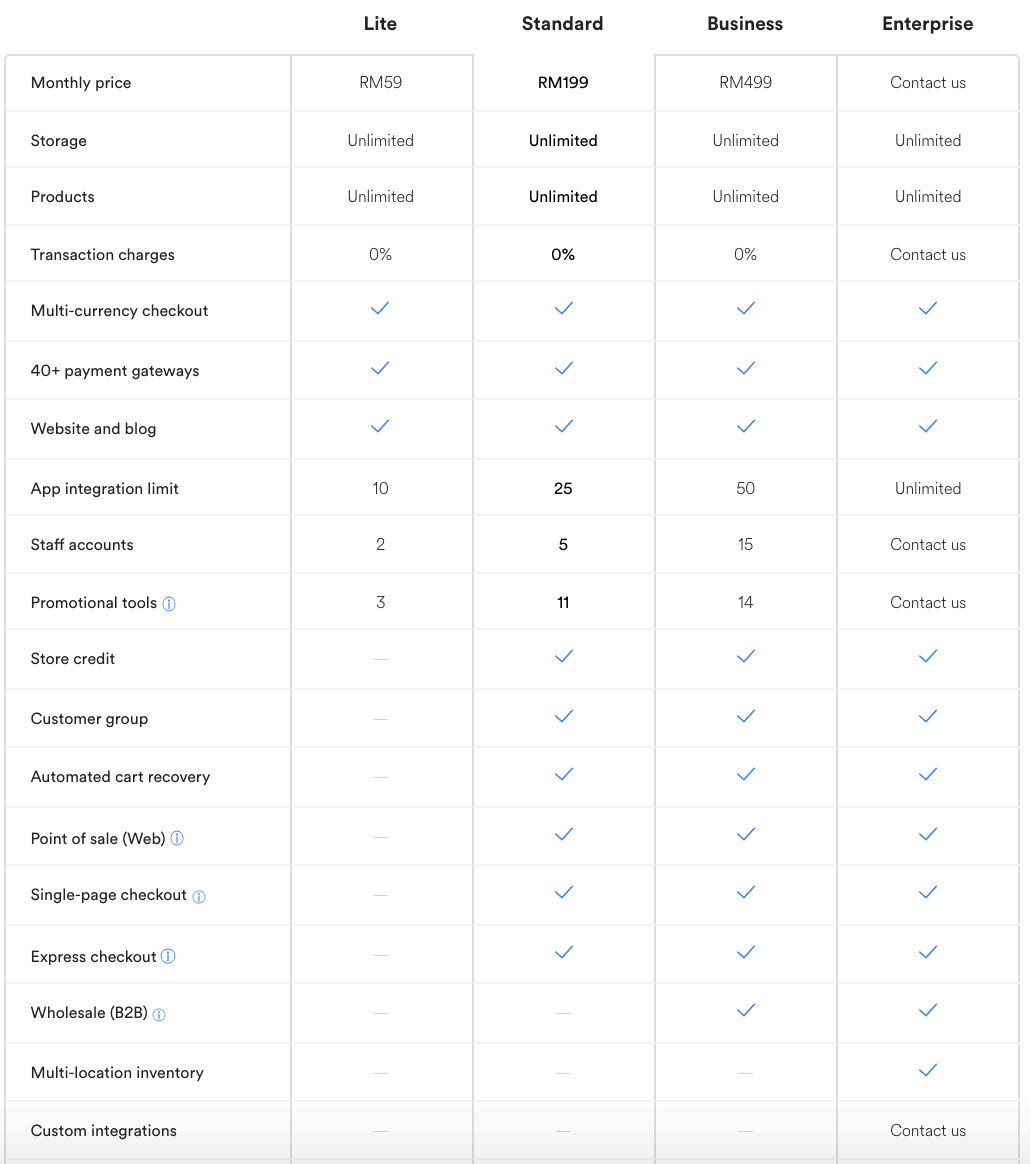 On top of the basic features offered at every price tier, at RM59/month, you get only 10 integrations, 3 promotional tools, and nothing else. You don't get basic features like store credit, or automated cart recovery or even Point of Sales (POS) features. (Point of Sales Feature, by the way, is offered on every single tier in Shopify.)
If you want to keep growing your business, the only way is to go for the next tier which offers just enough features at RM199/month.
However, you get most of the features that the RM199/month EasyStore plan offers in the $29/month (~RM120/month) Shopify basic plan: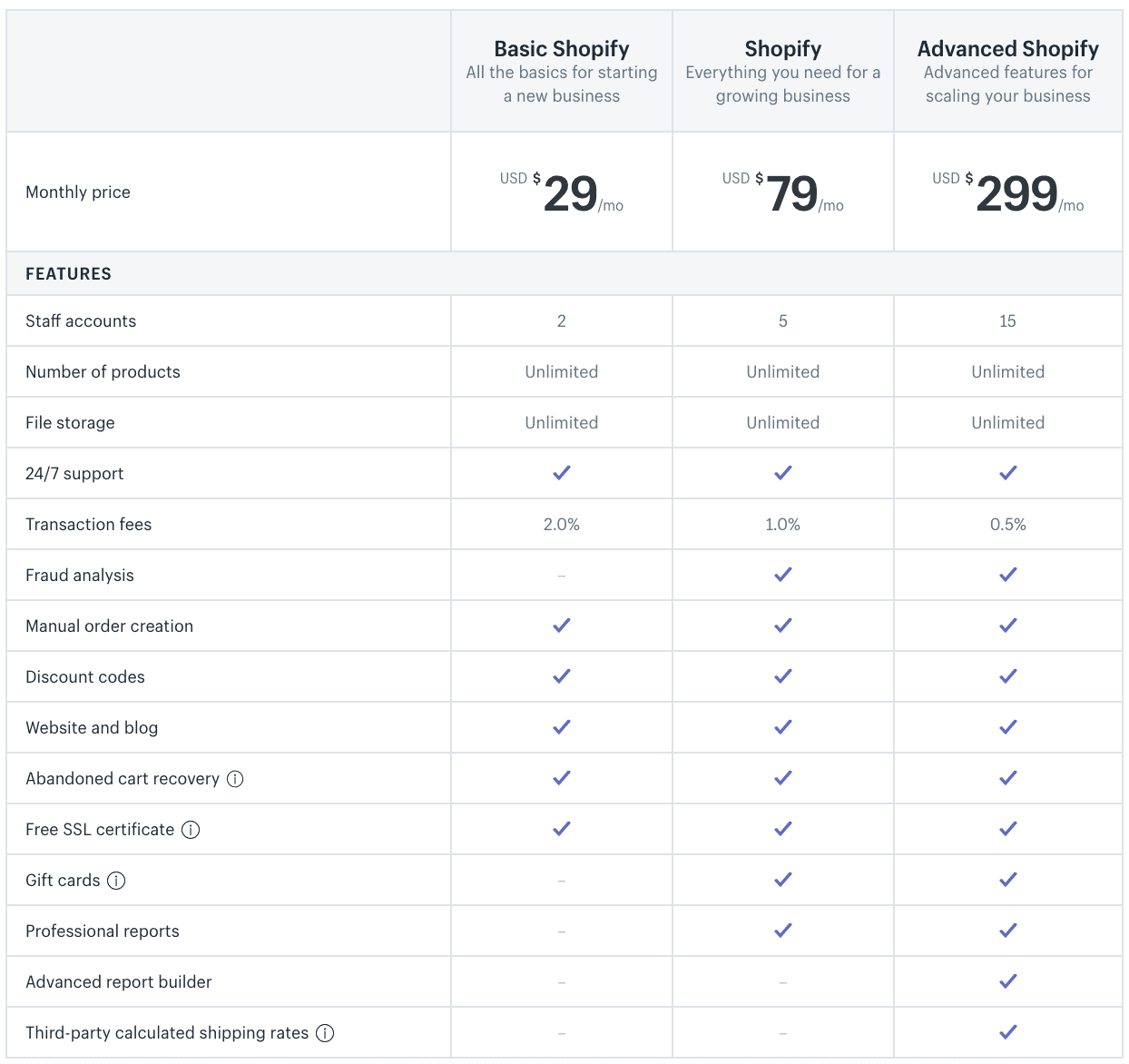 The biggest similarity between the Shopify Basic $29/month plan and EasyStore's Lite RM59/month plan is that both plans feature 2 staff accounts. But don't let that fool you into thinking that other features are the same. As I mentioned above, they are far different.
To get a similar set of features in EasyStore as the Shopify Basic $29/month (~RM120/month) plan, you need to upgrade to the RM199/month.
If you are willing to compromise on the number of staff accounts, I'd say that the $29/month Shopify Basic Plan is a much cheaper choice than the EasyStore RM199/month plan. You will have access to more features to upgrade your store using Shopify's $29/month (RM120/month) plan than EasyStore's RM59/month plan.
#2. Shopify offers Unlimited App Integrations
Apps in both Shopify and EasyStore allow you to expand your e-commerce features beyond the basic shopping cart offered by either website builder.
With apps, you can add things like a mailing list software, inventory management software, drop shipping software and shipping software with just the click of a few buttons.
Except for the Enterprise plan, EasyStore limits the number of apps you can integrate into your e-commerce store:

For the Lite plan (RM59/month), you can only add 10 apps into your e-commerce site. If you want to add just 25 apps, you have to upgrade to the Standard plan that costs almost four times more (RM199/month).
This severely limits the features you can add to your e-commerce store. It seems like for EasyStorefewer if you want more apps, the only option is to upgrade to a more expensive plan.
Shopify, on the other hand, does not have any limitations to the number of apps you can add, regardless of which plan you choose.
For people who want to keep adding features to their website without worrying about upgrading, Shopify is a better choice.
#3. You have more themes to choose from in Shopify
If you want to create a unique spin on the design of your e-commerce website, you would have better luck doing so using Shopify than EasyStore.
This is because Shopify offers over 100 website theme to choose from. These include both free and paid templates: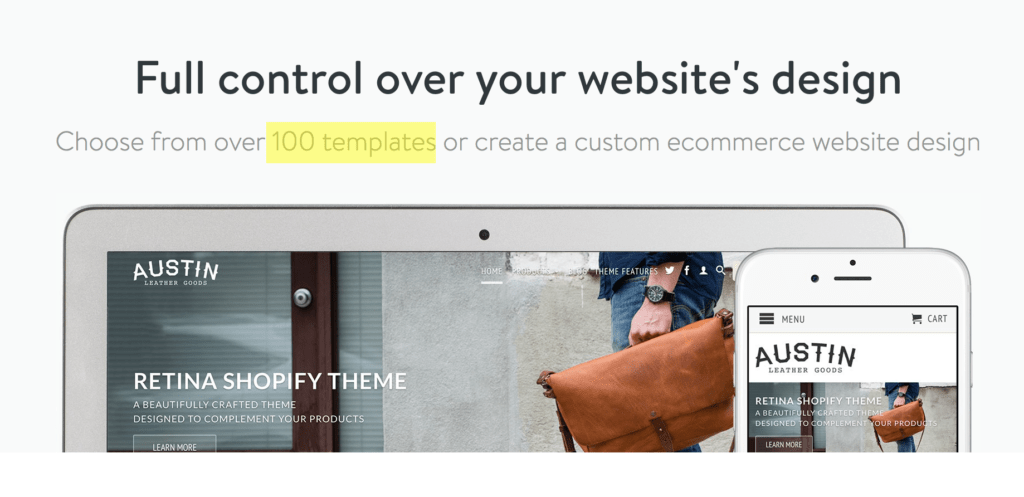 Other than that, you can even buy themes created by third-parties on websites like ThemeForest: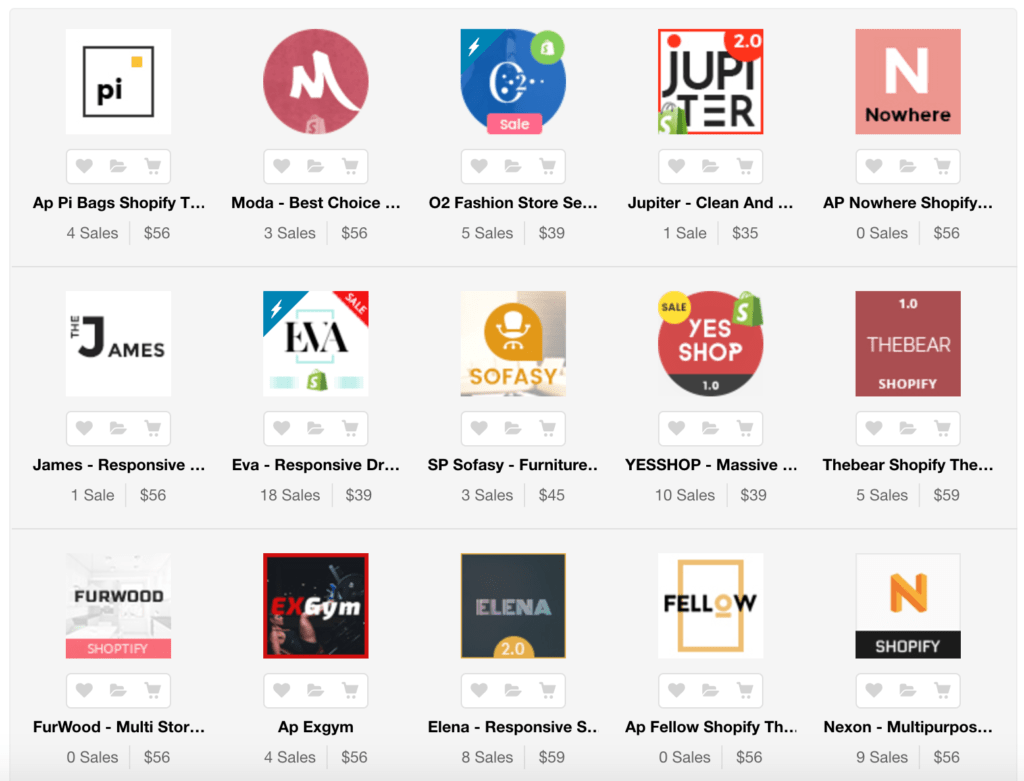 With Shopify, you will be spoilt for choice when it comes to designing your e-commerce store.
EasyStore, on the other hand, offers less than 30 templates. All templates in EasyStore are currently free: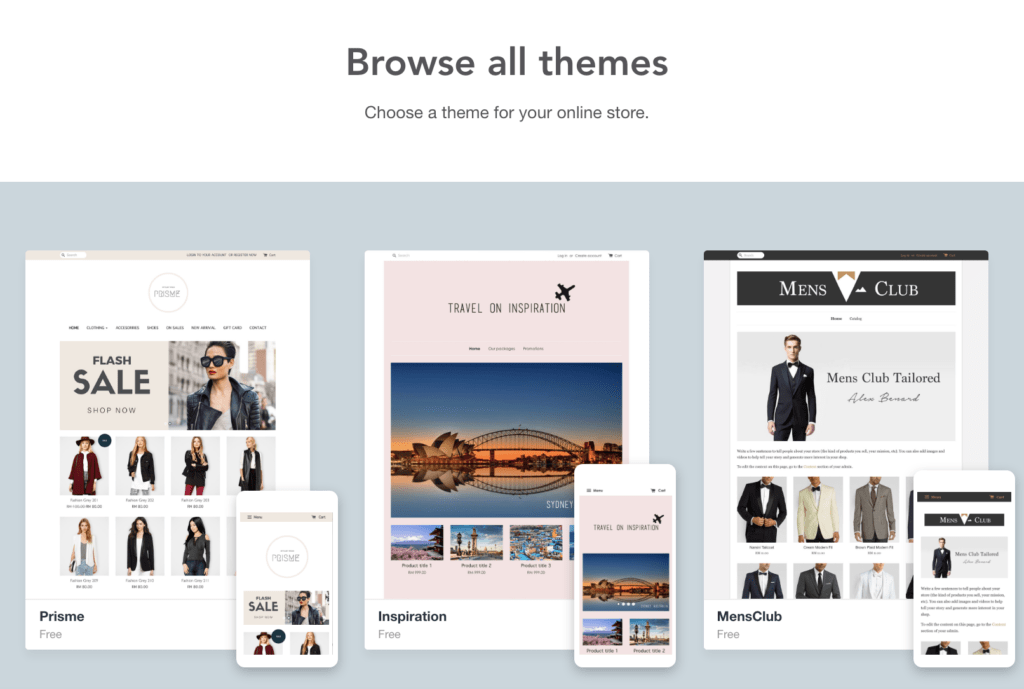 In addition to that, there are no third-party sites which sell a wide range of EasyStore themes to buy from. It is likely that you will need to hire someone to customize the design of your EasyStore site.
If you like having a more unique design of your website without spending too much money hiring a designer to make a custom one for you, Shopify will be a better choice.
#4. You can do more web design customizations on Shopify
As I mentioned in my EasyStore review, the amount of customization you can do for your EasyStore website is highly limited.
Most often, you can only pick from the options given to you by EasyStore. This means that your store features will likely resemble most other stores built using EasyStore.
With Shopify, on the other hand, you have more flexibility when it comes to web design. Though, to do web customizations, you will need to be skilled in the programming language Shopify uses: Liquid.

But even if you do not know the language, you can hire a certified Shopify Expert to help you customize your designs.
If you are someone who wants a lot of control over your web design, Shopify would be a better choice for you compared to EasyStore.

If you intend to use content marketing as a way of reaching your customers, Shopify may be a better all-in-one solution compared to EasyStore.
#5. You have more resources to learn from in Shopify
This is probably one of the most important advantages that Shopify has over EasyStore.
In the end, everybody who starts an e-commerce website wants to make money from it.
With Shopify, there is an entire section dedicated to helping you grow and become successful as an e-commerce website owner. There are guides that help you learn about drop shipping, product sourcing, e-commerce best practices and even case studies of how other Shopify customers have succeeded in creating successful businesses using Shopify.
All you have to do is click on the 'Resources' section of the page to start learning:
Other than that, there's even resources outside of Shopify that you can use to grow and succeed in your e-commerce business.
In essence, Shopify has built an entire community of e-commerce business owners that you can turn to when you have a problem with your website.
Resources by EasyStore, on the other hand, are limited to its Help Center and articles on its blog. And right now, they really pale in comparison with the vast amount of tutorials, guides and case studies Shopify has in its vault.
If you are looking to join an active community of e-commerce website owners not only in Malaysia but all over the world, I'd say Shopify is the better option.
---
Now that we've seen how Shopify is better than EasyStore, let's look at the unique advantages that EasyStore has over Shopify:
2 Ways EasyStore is Better Than Shopify
#1. EasyStore Charges 0% Transaction Fees But Shopify Charges 0.5 – 2%
This is probably the biggest advantage that EasyStore has over Shopify. While Shopify charges between 0.5 – 2% transaction fees, you don't have to pay any transaction fees when you use EasyStore.
These transactions fees are charged on top of any transaction fees that your payment gateway charges you.
This means that when you make a sales of RM100, you will need to pay an additional 0.5 – 2.0% on top of a 2.9 – 3.8% gateway payment fee when you use Shopify, totaling your fees to RM2 + RM3.8 = RM5.8 (taking the 2.0% fees for Shopify and 3.8% payment gateway).
For the same RM100 transaction, you only need to pay RM3.8 when you use EasyStore because they do not charge transaction fees on their platform.
Although a few ringgit here and there may not be much, but imagine if you have sales of RM10,000 a month. That would easily add up to at least RM200 more.
#2. You can get started for cheaper
Shopify's cheapest plan starts at $29/month (RM120/month). While earlier I have mentioned that this provides massive value for its price, if you simply cannot afford RM120/month, then EasyStore's RM59/month may be a better option for you to get started.
I'm not saying that this plan offers you the best value, but that if you have a very limited budget and want to get started, at least EasyStore offers an option at half the price of Shopify's cheapest plan.
At the very least, you will get to learn how to sell online before you can afford an upgrade.
Verdict: Which One Should You Pick?
I think it would not be too hard to see from my analysis above that my recommendation would be to go for Shopify if you can afford the $29/month (RM120/month).
At just $29/month, it has all the features you need to create a powerful online sales machine.
Whether you want to get started with a full-fledged e-commerce store or drop shipping business, the $29/month plan will have more than enough features for you to start generating money.
Although EasyStore offers 0% transaction fees, it is still not worth it for me because of its limitations on app integration and theme designs.
Moreover, Shopify has a large international community of business owners where I can simply google and learn from.
If you want to kick start your e-commerce business with Shopify, sign up for Shopify's 14-day trial using the button below:
Exclusive offer for My Referrals: Get Your Shopify Store Set Up for RM199
Every month, hundreds of people visit this page to help them make a decision on which e-commerce website to choose.
Worse, they get worried that once they sign up, they wouldn't know what to do with their store.
They think: What if I don't know how to set it up and get sales? I'll just be wasting my money!
Today, I'm going to make the decision easier for you.
If you use my link above to sign up for Shopify Basic $29/month plan, I will give you this exclusive offer you won't get anywhere else in Malaysia.
What is it?
Just RM199 (NP: RM899) to help you set up your Shopify page – I'll help you set up your site using a free theme, add 10 products and set up a payment gateway for you
You will be added to my private support group where you can connect with me and other Shopify users in Malaysia. There, you can ask me questions about your website or any business question you have. This is easily worth at least RM199 a year!
If you want to take advantage of this offer, first, sign up for Shopify Basic $29/month using my link below:
Once you have done that, send me a message below and tell me what your store name is. It's that simple!
[contact-form-7 id="2621″ title="contact form 2″]