Lelong is one of the pioneer e-commerce marketplaces in Malaysia, having started by Richard Tan in 1998 as an auction site. Once the #1 e-commerce auction and marketplace site, today, Lelong has fallen slightly behind since stronger, Chinese-backed players like Lazada and Shopee entered the market.
In spite of the more competitive environment, Lelong remains one of the most visited online marketplaces in Malaysia with over 9 million monthly visitors a month. Other than that, Lelong reports that there are over 8,000 active webstores on the site.
Now, as someone who is thinking about selling online or expanding their online business, your question will be: is it a wise financial and business decision to start a webstore on Lelong today?
In this post, I hope to help answer that question with you by looking at how much it will cost you to start a webstore on Lelong and what the advantages and disadvantages of doing so are.
Let's jump right in:
In a Snapshot: Overview of Lelong.my's Vital Stats and Startup Costs
 
Vital Stats for Lelong.my:

Started in 1998

9 million monthly visitors

> 8,000 active webstores

> 2.5 million registered users

> 30 million monthly transactions

Costs of Starting a Webstore on Lelong.my

RM398/year (Webstore Plan)

RM498/year (Webstore Plus Plan)

Pros of selling on Lelong.my

Easy to understand promotions

Cons of selling on Lelong.my

Limited number of SKUs allowed (500 for Webstore Plan and 1,500 for Webstore Plus Plan)

Outdated look compared to other e-commerce marketplaces
How Much it Costs to Get Started on Lelong
Cost is one of the main concerns when it comes to setting up shop online so let's take a look first at how much you need to spend to get started on Lelong.
Unlike other online marketplaces in Malaysia, it isn't free to list on Lelong. Instead, it will cost you RM398 a year for the Webstore Plan and RM498 for the Webstore Plus Plan on Lelong.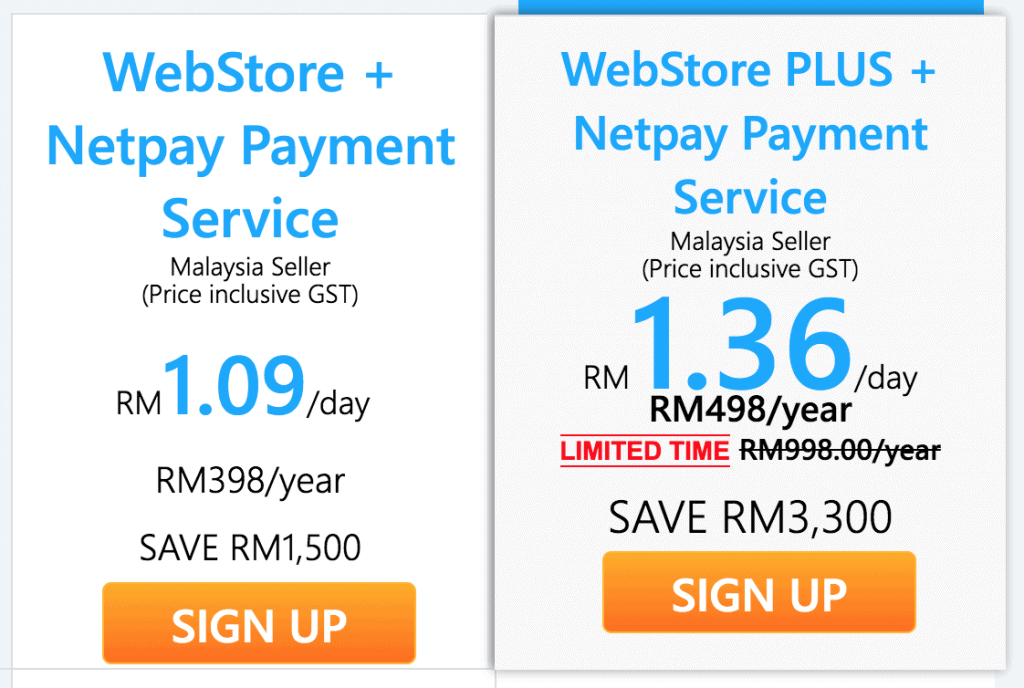 The main difference between the two plans is the number of SKUs you can list. For the Webstore Plan, you can list up to 500 SKUs whereas for the Webstore Plus Plan, you can list up to 1,500 SKUs.
On top of the listing fee, you'll need to pay Lelong a commission each time you make a sale on the platform.
So, the total cost of selling on Lelong would be: Listing fee + Commissions
Lelong is the only online marketplace in Malaysia that charges a listing fee so if you're selling the same product on both Lazada and Lelong, you might make less on Lelong after deducting costs.
Having said that, let's take a closer look at the cost and fee comparison between Lelong and the largest marketplaces right now:
Setup Cost and Fees Comparison Between Lelong, Lazada, and Shopee
Setup Costs
As I mentioned earlier, Lelong is the only online marketplace in Malaysia right now that charges a listing fee.
This makes Lelong the most expensive platform to set up shop on when compared with Lazada and Shopee:
| | | | |
| --- | --- | --- | --- |
| | Lelong | Lazada | Shopee |
| Set up fee | RM398 / RM498 | No setup fee |  No setup fee |
Commissions
From the commissions' point of view, Lelong also charges the highest fees on sales when compared with Lazada and Shopee:
| Commissions | Lelong | Lazada | Shopee |
| --- | --- | --- | --- |
| Fashion | 8.0% | 0.0% | 0.0% |
| Electronics | 4.0% |  0.5 – 2.0% | 0.0% |
| Food | 5.0% |  2.0% | 0.0% |
While I don't expect the low fee structure on Lazada and Shopee to last forever, for now, this makes it the most expensive to sell on based on both the setup costs and commission fees.
Now, let's take a look at the advantages of selling on Lelong:
Pros of Selling on Lelong
While all e-commerce marketplaces offer the same basic features for sellers, here are some of Lelong's features that stand-out from the rest:
Easy to Understand Sponsored Rankings
Eventhough Lazada and Shopee have both started offering sponsored rankings for sellers who want more visibility for their products, they are still at a stage where it is pretty difficult to guess what exactly you are paying for.
Although Lazada explains that its sponsored rankings are based on algorithms that decide the best placement, as a seller, I can't really see where or when exactly do my sponsored products show up. So sponsoring products on Lazada is based on trust that Lazada will have our best interest.
On the other hand, it's pretty clear on Lelong what paying for promotions for my product listings will do – they push the listing upwards for specific keywords. It's easy to see where my money is going.
Cons of Selling on Lelong.my
Now, let's look at some of the less attractive features of Lelong:
Higher Costs
As you can see from the cost and fee comparisons above, Lelong is the most expensive in terms of setup cost and commissions structure for an online marketplace in Malaysia.
For someone with less capital to get started, this can add an extra barrier from getting started.
An outdated look
Lelong's front-end and back-end interface appears outdated when compared to fresh-faced Lazada and Shopee.
Although this does not mean that people will not buy on Lelong, in my opinion, this interface may not be something that teenagers of today will be used to buying from.
This means that if your target audience is mainly teenagers Lelong may not be the best place to list on.
In spit of that, Lelong's design is highly conversion optimised.
Less Comprehensive Online Guides for Sellers
Although helpful, when placed side by side Lazada's seller guides, Lelong's is much less comprehensive.
Take a look at the help section for sellers on Lelong and compare it with that of Lazada's.
If you are a self-paced learner, you may better appreciate the videos and guides that Lazada has prepared.
The Verdict: Should You Sign Up for Lelong in 2018?
Lelong started in 1998. Back then, it was the most popular e-commerce auction marketplace site in Malaysia. The question is: is Lelong still a relevant place for online sellers?
Based on the statistics, my answer would be yes.
Lelong still gets a significant amount of traffic every month, to a tune of around 9 million visitors a month. This means that millions of Malaysians still turn to Lelong to buy things online.
While Lelong is still very much relevant in 2018, the big question is: should you sell on Lelong?
If you have very limited money and could choose only one e-commerce platform to sign up with, I really don't recommend going for Lelong.
The main reason being that while all other platforms don't charge a listing fee, you have to pay RM398 or RM498 just to get started on Lelong.
Having to pay a fee even before you have sold something can be quite discouraging. This is especially true if you are going for a dropship model where you don't expect to spend any money upfront and pay fees as you go along.
Instead, I recommend you to check Lazada and Shopee, which you can start off with no listing fee. Even from a comissions point of view, Lazada and Shopee offer zero or much lower commission fees compared to Lelong.
On the other hand, if you have money and don't mind paying an extra RM398 or RM498 a year, then I would recommend setting up shop on Lelong.
This is especially true if you are already a seller on Lazada, Shopee and other online marketplaces and wish to further grow your distribution channels online.
Different types of buyers go on different platforms to buy specific products. So you might as well give it a test to see if your products will sell on Lelong also.
Here's a quick guide on how to get started:
How to Get Started Selling on Lelong
Signing up for Lelong
It's relatively easy to sign up for a webstore on Lelong.
Go to the pricing page and click on the webstore plan you prefer – the Webstore Plan (RM398 a year) or Webstore Plus Plan (RM498 a year).
When you do, a form like the one below will show up: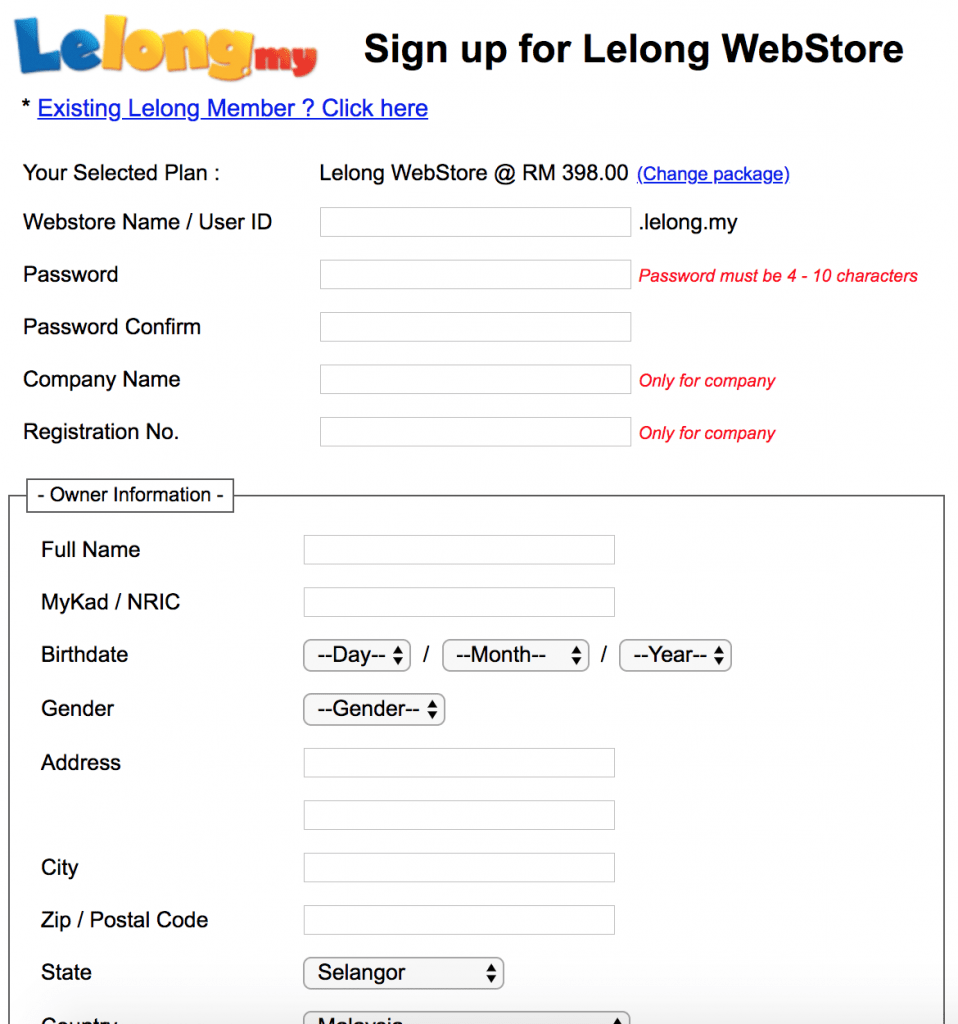 Fill in your details, make payment and your webstore will be ready.
Once you have an active account, it's time to start posting your products up for sale:
Posting Items for Sale
Lelong has prepared a comprehensive guide to teach you how you can do so, but here's a quick summary of how it's done (images taken from the guide):
In your seller dashboard, first, click on the 'Sell an item' button (a). After that, click on 'Sell item' under 'My Selling' (b):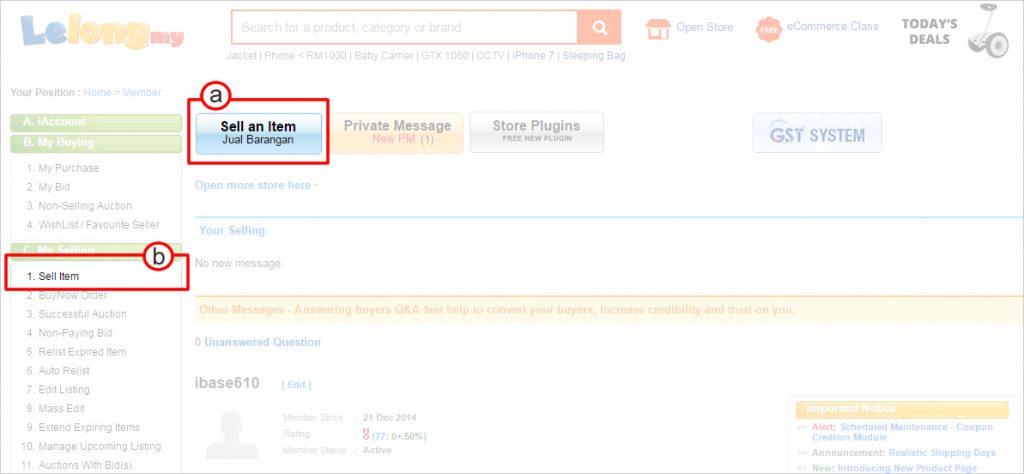 You will be given three options on how to sell your item. If you just want to list the item for normal sell, go for the 'For Sale/Buy Now' option: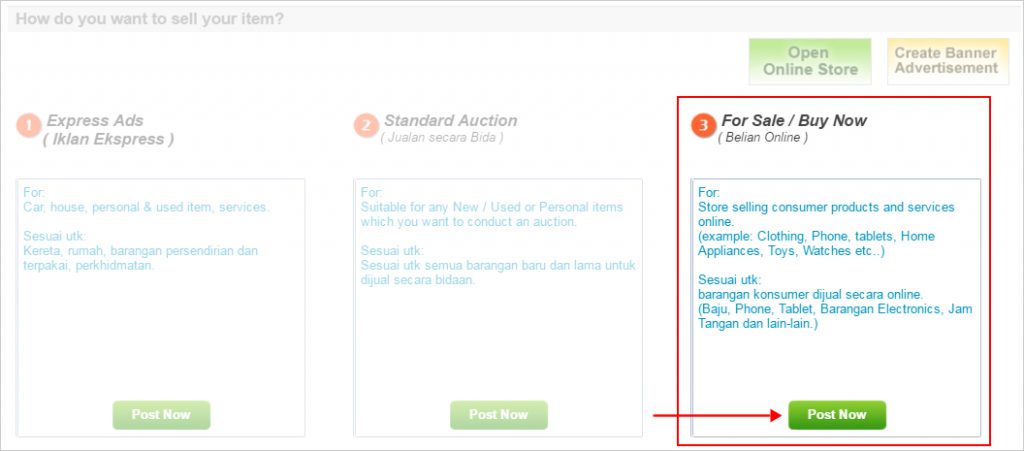 After that, pick a suitable category for your item: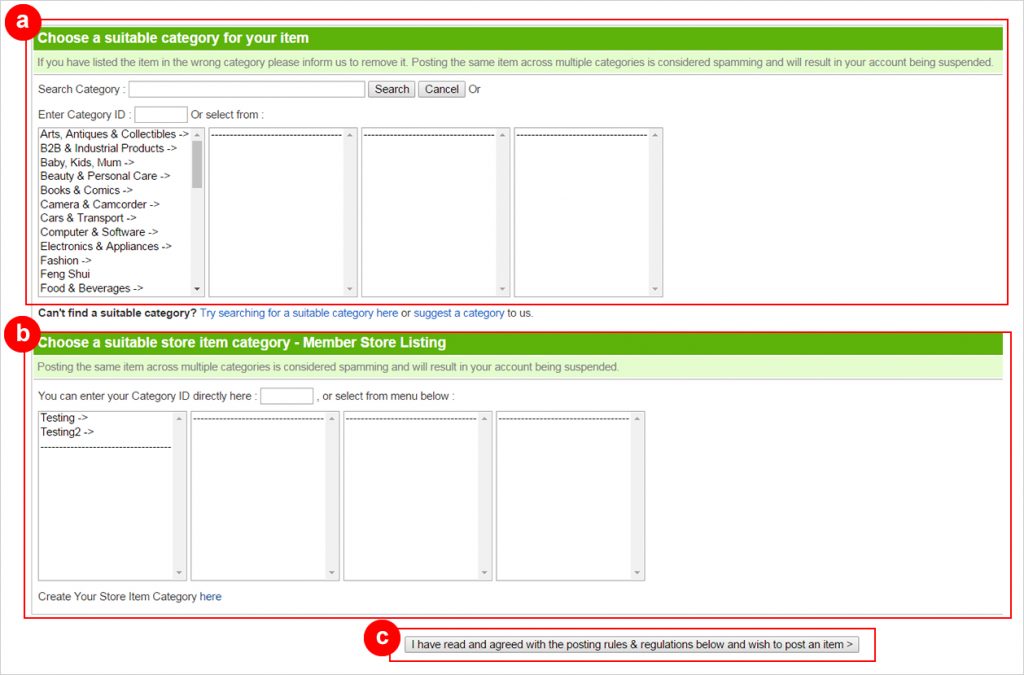 Once you have done that, you can fill up the details for your item on the next page. Here, you can add your product description, add a YouTube video and upload photos: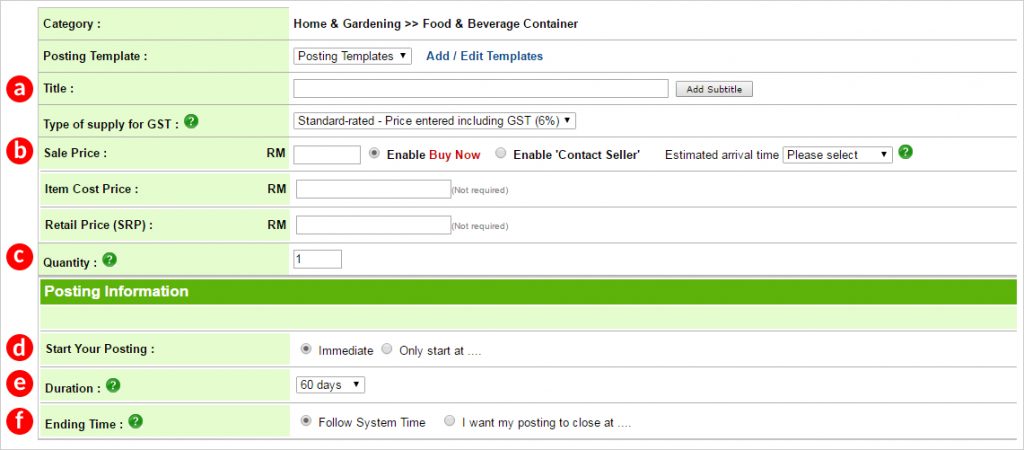 Once that's ready, you can enter the shipping info:


Once everything is set, you can decide if you want to promote your listing. On Lelong, you can pay a fee for a higher ranking: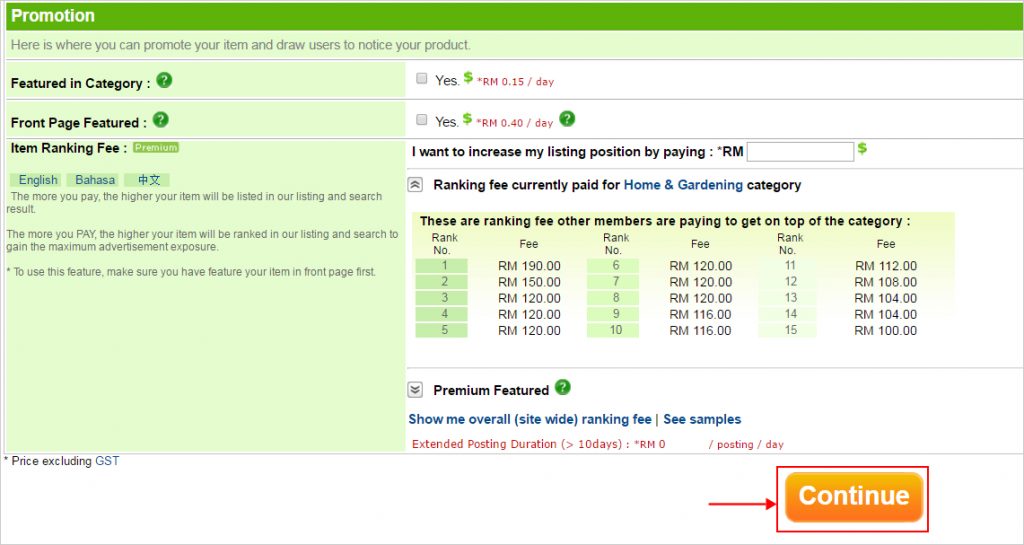 Once you have done everything, it's time to save your listing. You can choose to submit straightaway or save as draft first: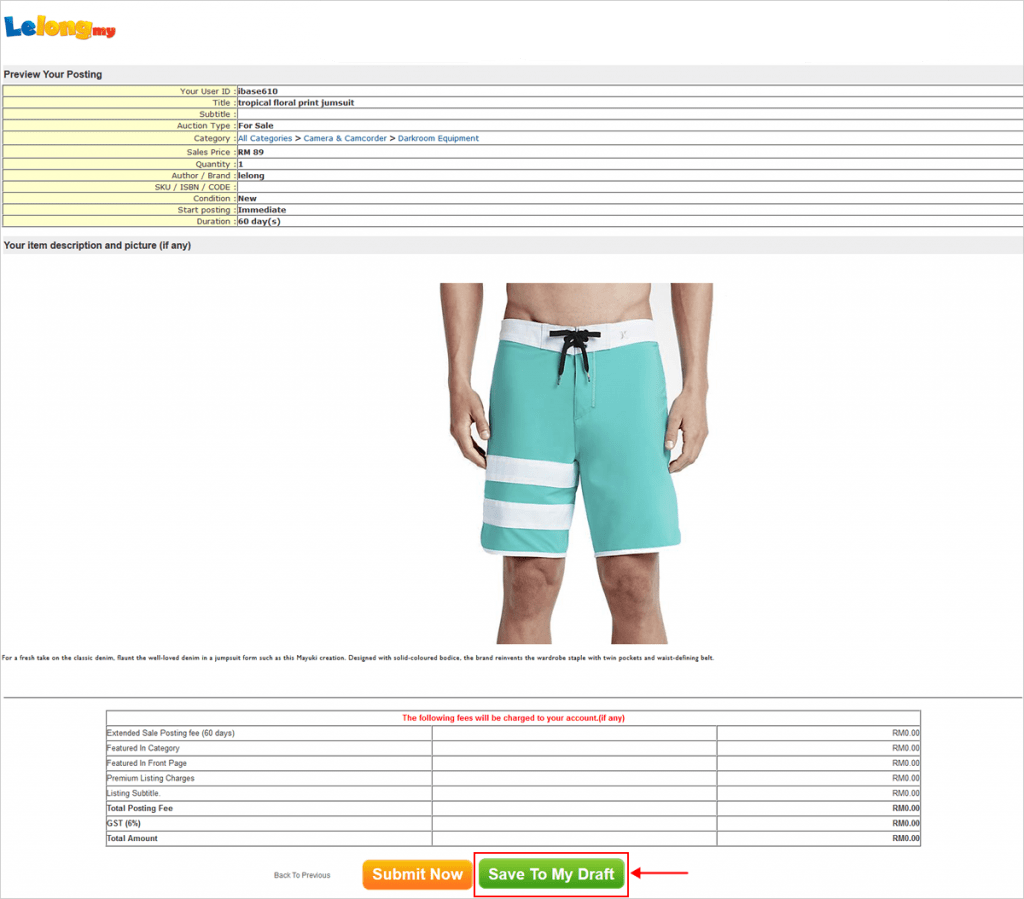 And that's about it!
(Remember to check out the guide for exactly how you can list on Lelong once your account is ready.)
Conclusion: Lelong Still a Relevant Online Distribution Channel in 2018
Lelong, the pioneer in e-commerce marketplace in Malaysia, remains relevant today. With over 9 million visitors and 8,000 webstores, Lelong is one of the strongest players in this space.
Although it looks a bit dated, Lelong's website design is conversion optimised and you are likely able to make good sales for the right kind of product.
Though, it is also the most expensive to get started with. While it's free to list on Lazada and Shopee, you have to pay RM398 or RM498 a year to set up shop on Lelong. Other than that, Lelong also has the highest commissions on sales.
Nonetheless, it is still a good place to list as a means of increasing your channels of distribution.
These are my thoughts on selling on Lelong. What are yours? Share them in the comments section below:
---
Explore more e-commerce marketplaces to sell on:
Why You Should Sell on Lazada and How to Get Started in 2018
Why You Should Sell on Shopee and How to Get Started in 2018