Since its retirement in Oct 2019 as a free plugin, fans of the free version of Keywords Everywhere have been left with a gaping hole in their research toolset.
Thankfully though, the vacancy left by Keywords Everywhere has now been filled up by a few solid alternatives.
Each of these tools bring the same features you loved in Keywords Everywhere with their own twist. Whether you're looking to just replace Keywords Everywhere, or a bit more, I'm pretty sure you won't be disappointed.
If you like having keyword volume data at your fingertips when you search, but hate the extra fees Keywords Everywhere now comes with, you'll be happy to find these alternatives keyword research chrome extensions.
Neil Patel's Ubersuggest
Key features
Get data on keyword volume, CPC and search difficulty
Analyse data by language and country
Keyword suggestions based on "People also search for"
Extra feature: traffic and backlink metrics


Ubersuggest is Neil Patel's answer to SEO keyword and competitor analysis. Like Keywords Everywhere, doing a keyword search on your browser will give you a list of keyword suggestions along with their volume, CPC and SD info.
Here's what I got when looking for "basketball shoes" – a whopping 23,117 suggestions!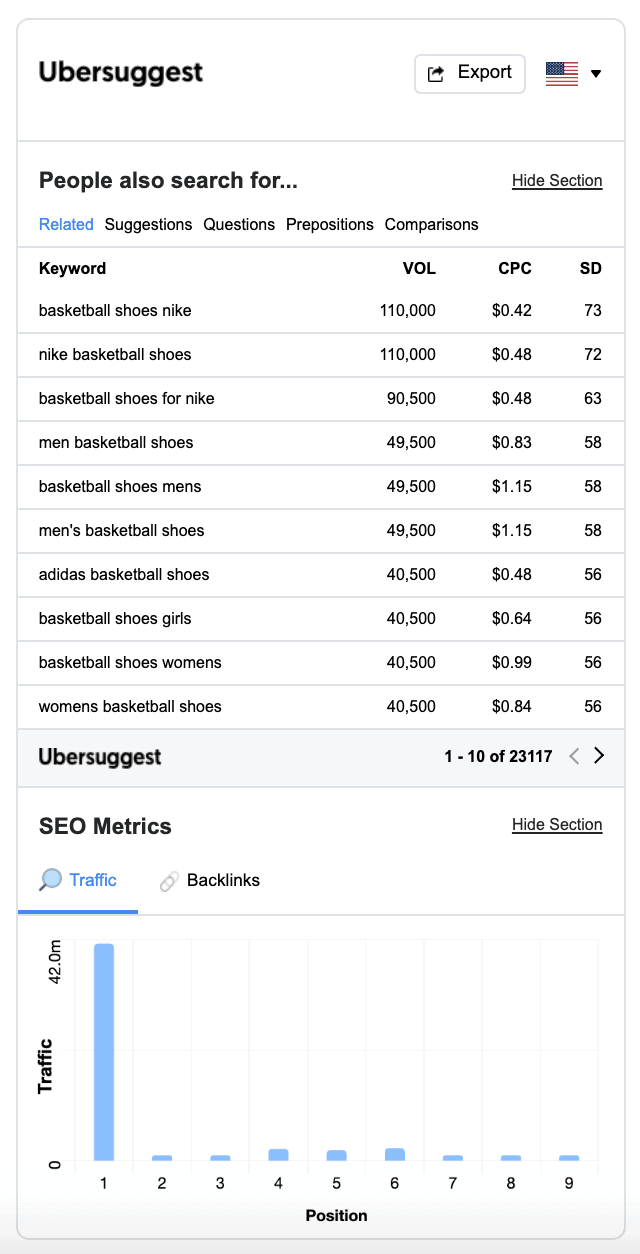 Underneath the keyword suggestions, you'll also get additional SEO Metrics which give you a rough idea of the traffic and backlink distribution across the SERPs.
Ubersuggest's best feature though, is its database – it's the most comprehensive one in the list. You can not only analyse by country, but also by language: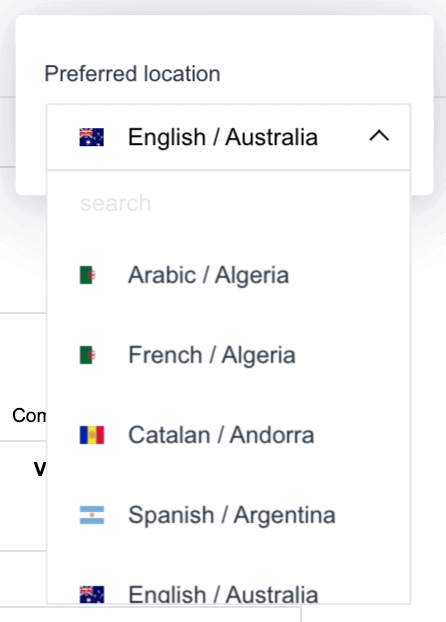 This is especially valuable for those who do are doing optimisation in specific languages. The language-specific database allows you to be very precise.
There's also some domain info about each of the ranking pages on the SERPs, which can be useful to get a quick idea of the domain strength:

Features like export, or viewing other keyword types (suggestions, questions, prepositions, comparisons), unfortunately all happen in-app, rather than on the browser itself.
If you prefer a language-specific tool with a ton of suggestions, you can't go wrong with Ubersuggest.
Download Ubersuggest Chrome extension
Keyword Surfer
Key features
Get keyword similarity and volume data
Analyse keywords by country only
Keyword suggestions based on % similarity
Add keywords to clipboard and export
Extra feature: correlation chart (traffic, word count, number of keywords)


Keyword Surfer is a keyword Chrome extension by on-page optimisation tool, Surfer SEO. It's an on-page SEO tool that helps you make improvements to your content by using correlation factors.
Unlike Ubersuggest which provides keyword suggestions based on "People also searched for", Keyword Surfer's suggestions are based on a "Similarity" score.
The same search for "basketball shoes" yields just 84 results: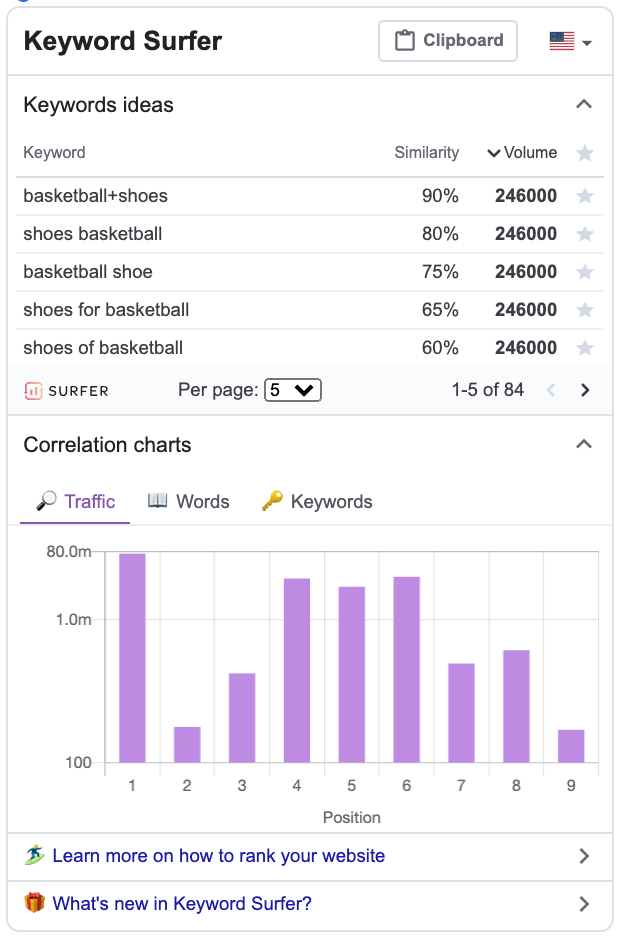 Although it shows significantly less keyword suggestions, they can still provide a lot of value when combined with Ubersuggest's.
Other than keyword suggestions, you'll also have a bird's eye view on the SERP traffic, word count and keyword count distribution from the "Correlation Chart" feature. This will give you some basic idea of how to structure your own content for optimisation.
On the search results itself, you'll also get some info on the ranking page for a quick idea of some key on-page metrics:

A cool feature Keyword Surfer has that I haven't found anywhere else is their clipboard and export feature. You can add keywords to the clipboard by clicking on the star next to the keyword. Export which can be done right on the browser: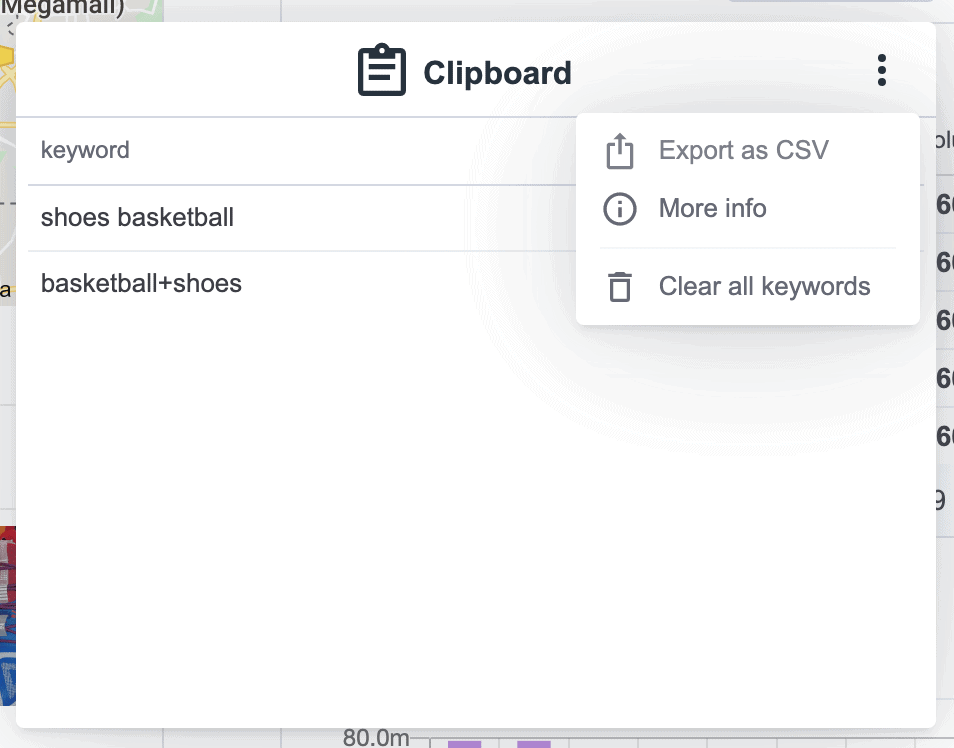 This is a time-saving feature that can reduce the time you spend manually copy-pasting keywords somewhere else for further analysis.
If you prefer a correlational approach to keyword research, Keyword Surfer is hard to beat.
Download Keyword Surfer Chrome extension
WMS Everywhere
Key features
Get keyword volume and CPC data
Keyword suggestions based on "Related keywords" and "People also searched for"
Analyse keywords by country
Toggle on and off


WMS Everywhere is a Keywords Everywhere alternative by whatsmyserp.com. The keyword tool offered is a much more basic one compared to Ubersuggest and Keyword Surfer, offering just keywords, with no additional SERP features like SEO Metrics or Correlation Chart as we've seen earlier.
Nonetheless, for keyword research itself, WMS Everywhere offers a rich list of keywords that are great for generating a ton of ideas.
Here's a sample of what I got from checking out "basketball shoes" on WMS Everywhere: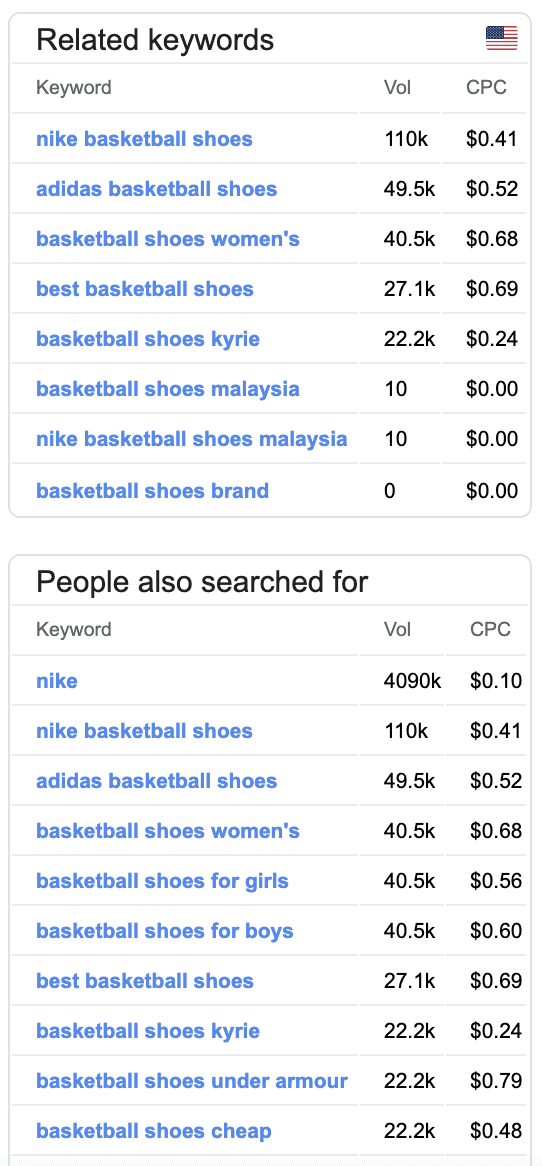 WMS Everywhere's key advantage is that it provides keyword ideas based on two different Google recommendations: "Related keywords" as well as "People also searched for".
If you're one for minimising clutter on your browser, there's also a nifty on-off toggle on WMS Everywhere to make it disappear when not in use.
In short, WMS Everywhere is for you if you prefer a no-frills keyword browser tools with just the essentials.
Download WMS Everywhere Chrome extension
Conclusion
Keywords Everywhere may no longer be free, but free alternatives to the keyword research chrome extension have quickly filled up the vacuum.
While Ubersuggest, Keyword Surfer and WMS Everywhere all fulfill the keyword research on browser gap, they each have their own unique approach to it.
Ubersuggest is focused on providing the best language-country experience, Keyword Surfer on correlational data and WMS Everywhere on Google suggestions.
One thing's for sure though – once you have any one of these installed, you're ready to fire up your keyword research in browser engine.
Personally, I find the best result when I use all 3 together. But it's up to you if you want to install all three, just two or even one.
Regardless of which tool you use, I'm confident you'll find a great addition to your SEO toolkit.
What's your new favourite keywords chrome extension? Let me know in the comments below!