Choosing a payment gateway for your online business can be one of the toughest decisions at the beginning of your business.
For your business to run smoothly, the gateway should at least be reliable. This means that if your customer is trying to pay you, the transaction can pass through without errors.
Errors at the payment stage can be disastrous. Trying and failing many times when trying to make payment can cause your customer to become frustrated.
When your customer becomes frustrated, they will be less motivated to go through with their payment, instead choosing to abandon cart.
With reliability out of the way, the next thing you need to consider are the fees.
Though a payment gateway may be highly reliable, if the fees are too high, it may not be worth using for the long term.
The bad news is that lower transaction fees often come at a higher setup and annual fee. When you are just starting out, you may not be able to afford these fees.
The good news is that most payment gateways offer entry-level plans for businesses that are just starting out and have less than RM5,000 in revenue a month. These entry-level plans often come with affordable setup fees and no or low annual fees.
In this post, we will be comparing the entry-level plans of iPay88 and MOLPay, two of our most established payment gateways in Malaysia. We will also be stacking them up against the internationally renowned gateway, PayPal.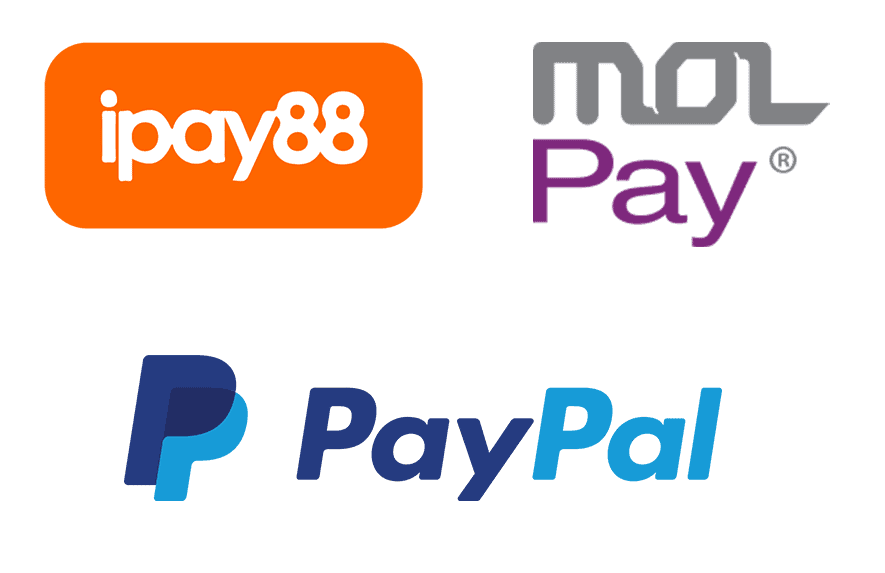 We will compare them with one another in terms of reliability, fees, and payment features. By the end of this post, you will have a better idea of which payment gateway's entry-level plan suits you best.
Ready?
Let's begin.
Comparison Summary
Review of: iPay88 SOHO vs MOLPay Lite vs PayPal / Use: Payment Gateway
iPay88

MOLpay

PayPal

Package

SOHO / Startup

Lite

Personal

Sign up fee (one time)

RM488

RM499

No fee

Annual fee

No fee

First year waived,
Second year onwards RM99/year
No fee
Transaction fees

3.5%

3.8%
3.9% + RM2
Withdrawal method
Transfer to local bank (weekly)
Transfer to local bank (weekly)
Transfer to local bank (on request)
Minimum amount for withdrawal

RM100

RM100
RM40
See amount for other countries here
Withdrawal charges/Settlement Fee
No fee

RM2

No fee
Online bank transfer

Yes, most popular banks in Malaysia

Yes, most popular banks in Malaysia

Not available

Cash payment options
Not available

7-Eleven, Petronas

Not available
Sign up
Summary: MOLpay and iPay88 are the preferred payment gateways if your business has customers primarily based in Malaysia. This is mainly because both these payment gateways accept online bank transfers from local banks, which is a preferred payment method in Malaysia.
PayPal is the least desired payment gateway if your customers are primarily Malaysian, but can be a good option if you have a mix of local and overseas clients, especially those based in countries like the US and UK.
In this guide, we will look at some of the main features of all three payment gateways. I have written this guide to help you decide on the payment gateway that is best for you.
Enjoy!
Payment Gateway Packages Chosen
As I have mentioned earlier, the setup and annual fees of standard packages can be too high for new businesses. So for this article, we will be comparing iPay88 and MOLPay's entry-level packages. For iPay88, that will be the SOHO or Startup package and for MOLPay, it will be the Lite package. For PayPal, we will be looking at PayPal's personal account.
Entry-level packages have the benefits of:
Lower set up costs
Low or no annual fees
These allow a new business to easily setup a payment gateway to receive payments from their customers.
The biggest drawback is that these benefits come with a higher transaction fee compared to standard packages. However, when your sales figures are below RM5,000, the difference between the transaction fees will not be too significant.
Now that we have selected our package plans, let's start our comparison:
Reliability
As I mentioned earlier, reliability is the number one thing to look for in a payment gateway.
As both three payment gateways are established, there is no significant difference between the reliability of iPay88, MOLPay and PayPal.
All three payment gateways qualify as reliable.
Fees
Our second most important consideration are fees. But before we look into each fee in detail, let's first look at what each type of fee means:
Transaction Fee
The transaction fee is the fee that the payment gateway charges you each time your customer makes a purchase using the gateway.
For e.g. if your customer buys something for RM10 and your gateway transaction fee is 3.0%, 30 cents from RM10 will go to your gateway, leaving you RM9.70.
On the long term, as your business grows, transaction fee rates will be the most important figure to consider.
Setup fee
The setup fee is a one-time payment for the initial setup of your gateway. It is to cover the administrative cost of setting up the gateway.
Since this is a one time fee, it will not be too important for the long-term. But for the short-term, lower set-up fees will be better for you if you lack the capital to pay high fees.
Annual fee
The annual fee is a yearly payment to the gateway for maintenance of their systems, technology, and support.
Since you need to pay for it every year, annual fees are the second most important fees you need to consider.
Credit Card Channel Fee
The credit card channel fee is a fee charged by banks when you set up a credit card facility with them. The standard fee is RM954 regardless of which payment gateway you use.
If you want to accept credit card payments using iPay88 or MOLPay, you will need to pay this fee.
On the other hand, you can also accept credit card payments using PayPal directly without setting up the facility with local banks. The only drawback with PayPal is that it has high transaction fees.
Withdrawal Fee
The withdrawal fee is a fee charged for every withdrawal you make from the payment gateway.
Now that you understand what each fee means, let's look at the figures for each of the gateways side by side.



iPay88 vs MOLPay vs PayPal Fees
Fees
iPay88
MOLPay
PayPal
Setup fee
RM488
RM499
No sign up fee
Annual fee
No fee
Free for first year
RM99 for following years
No fee
Transaction fee
3.5%
3.8%
3.9% + RM2
Withdrawal fee
None
RM2
None
Credit card application fee
RM954
RM954
None
As you can see, with no sign-up fees, PayPal is the most affordable payment gateway to set up. However, at a rate of 3.9% + RM2 per transaction, PayPal is the most expensive in terms of transaction fees. This makes PayPal cheap to set up but expensive to use.
The next most affordable to set up is iPay88's SOHO plan. At RM488, it is RM11 cheaper to set up compared to MOLPay. At 3.5% per transaction, iPay88 also has the lowest transaction fee. In addition to that, iPay88's SOHO plan also comes with no annual fees. Having the lowest transaction fee and no annual fee makes iPay88's SOHO plan the best value for money in terms of fees.
MOLPay is the least desirable in terms of fees because it has the highest setup fee at RM499, highest transaction fees at 3.8%, annual fees of RM99 and a withdrawal fee of RM2.
Though fees are an important consideration, you will need to look at some more features before making a decision on which payment gateway is for you.
Ability to accept online bank transfers
According to Adyen, as much as 42% of payments are made via online banking in Malaysia.
If your customers are mainly Malaysians, you may be missing out on more than 40% of sales if you do not accept online banking as a payment method on your website.
iPay88
MOLPay
PayPal
Online Banking
Available
Available
Not available
Affiliated banks
Maybank2u
CIMB Clicks
Hong Leong Connect
RHB Now
Alliance Online
AmOnline
MyBSN

Maybank2u
CIMB Clicks
Hong Leong Connect
RHB Now
Alliance Online
AmOnline

–
Both iPay88 and MOLPay can accept online bank payments from popular local banks. PayPal, on the other hand, is not affiliated with any bank.
So if your customers are primarily Malaysian, iPay88 or MOLPay are your best choices.
Point of Sales (POS) Payment Options
POS payments can be important to you if other than running online sales, you
Also run a physical store or,
Participate in events where you sell products and want to accept payments on site via credit card
iPay88
MOLPay
PayPal
Payment options
Virtual Terminal
mPos
Not available
Not available
In terms of POS payments, iPay88 is the clear winner of the three since it is the only payment gateway offering two options for POS.
As I mentioned above, this is only important if, on top of your online business, you see yourself accepting payments offline too.
If your business is primarily online, you would not need this feature.
Cash payments Options
Not all Malaysians have a bank account to pay via online banking. By offering payment by cash, you can reach more customers.
| | | | |
| --- | --- | --- | --- |
| | iPay88 | MOLPay | PayPal |
| Cash payment option | Not available | Cash payment at 7-Eleven and Petronas. | Not available |
MOLPay leads in this area because it can accept cash payments through terminals at 7-Eleven and Petronas stations.
The Verdict
iPay88: Best Option for Online + Offline Business
iPay88's low setup fees, transaction fees and annual fees make it the best value for money.
Other than that, iPay88 is also the best option if you have a hybrid online + offline business since it has POS payment options.
MOLPay: Best Option for Online Only
With its cash payment option, MOLPay has one extra payment option compared to iPay88.
This can make it the ideal payment gateway for an online business that wants to offer all types of payment options to its customers.
Though so, with its RM99 a year annual fee, MOLPay is also more expensive to maintain compared to iPay88 and PayPal. Go for MOLPay if the additional features are worthwhile for your business.
PayPal: Best Option for businesses with non-Malaysian customers
PayPal is an unpopular payment gateway in Malaysia because it does not offer online banking payment options with local banks. If your customers are mainly Malaysians, you would have a hard time getting sales.
However, PayPal can be a good option for you if your customers are mainly non-Malaysians who are familiar with PayPal.
On the other hand, if you have a mix of Malaysian and non-Malaysian customers, you can always add both payment gateways to your website. Since you do not have to pay any setup or annual fees for PayPal, there would be no additional fees for doing so.
Conclusion
Picking the right payment gateway can be the difference between getting a lot of sales, or very few. If your customers are mainly Malaysians, it is best to go for local payment gateways like iPay88 and MOLPay.
Although there are slight differences in features, iPay88 and MOLPay are generally good choices as they are reliable and established. To choose between iPay88 and MOLPay, you need to look closely at the features each gateway offers. Pick the one that can support your business goals best.
Though PayPal is not a good payment gateway to use by itself if your customers are mainly from Malaysia, you can always add it in as an addition payment option for your customers. It comes at no additional cost since there are no setup and annual fees.
*
Which payment gateway are you using for your e-commerce business in Malaysia? Share your experience with me below.
Additional Resources
Webshaper Payment Gateway Comparison
SiteGiant Payment Gateway Comparison