What is foodpanda?
Food delivery is slowly becoming a norm in today's society, because why not? You select, order and get your meal delivered right at your doorstep when it's still hot, steamy and fresh without going through the hassle of moving. And what's better? You save up time cleaning up when you're done eating! Convenient, easy and quick – Everything you need is found in foodpanda.
In a customer's perspective, delivery is the best alternative for a busy day. But to restaurant owners? More business. If you're someone whose looking to increase your customer base as well as boost your sales, here are some details on how you can partner with foodpanda.
Qualifications of a foodpanda Merchant
Your business must have a valid license
Your business must operate at least 4 days a week
Your business must operate at a minimum of 4 hours a day
Your business must have a fixed operational address
How to register as a foodpanda Merchant?
Step 1: Go to foodPanda's official website, scroll down and you will see "Get started".

Step 2: Once you've clicked on that, you will be redirected to another page that says "Partner with us".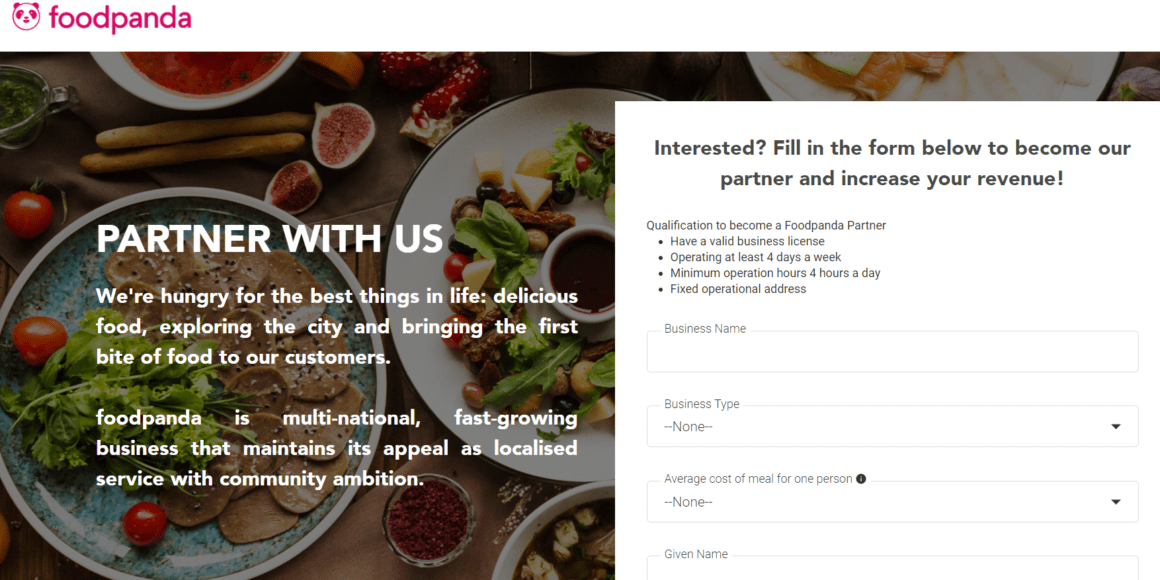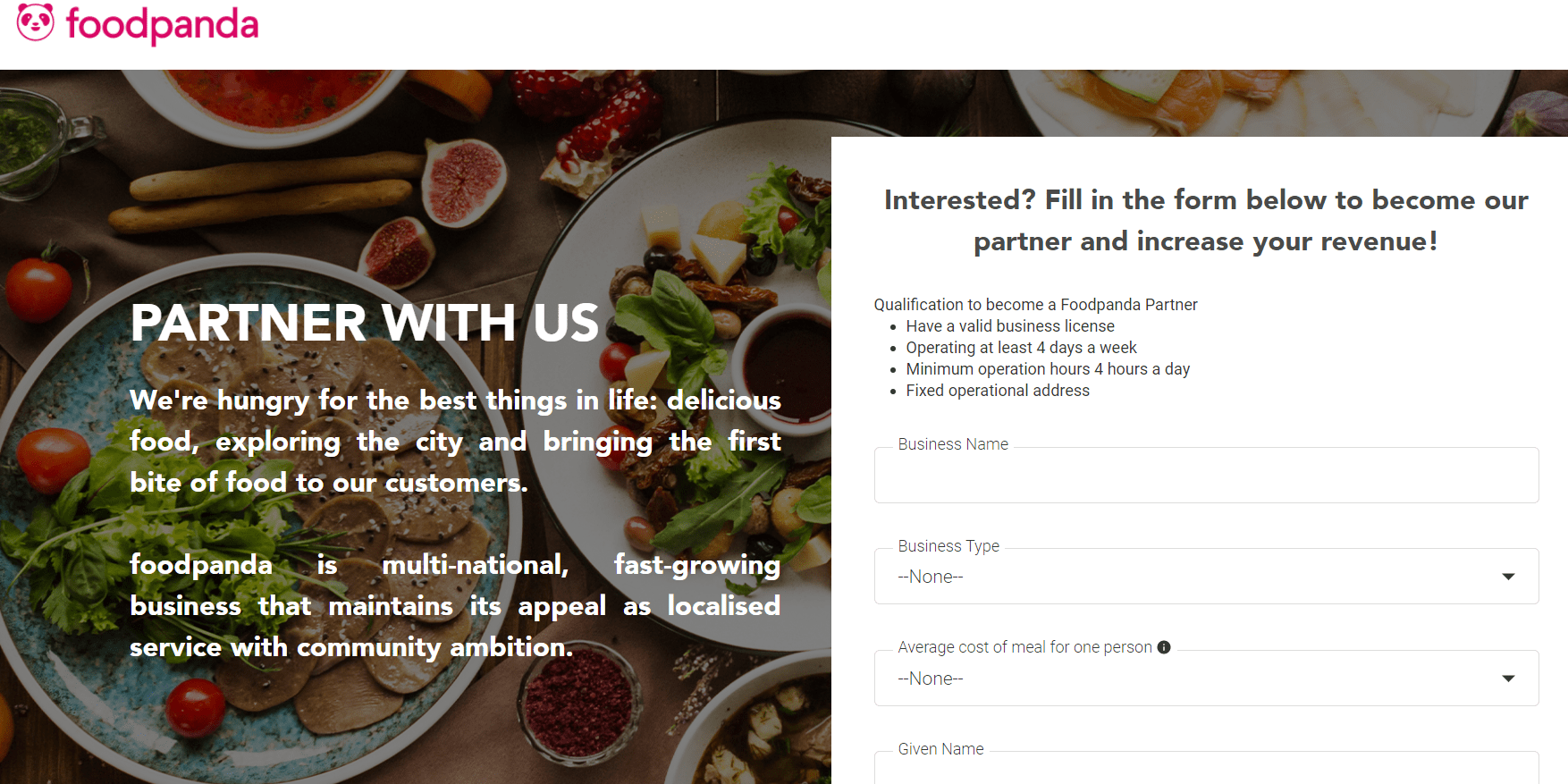 Step 3: From there you will be required to fill in basic information related to your business as shown below: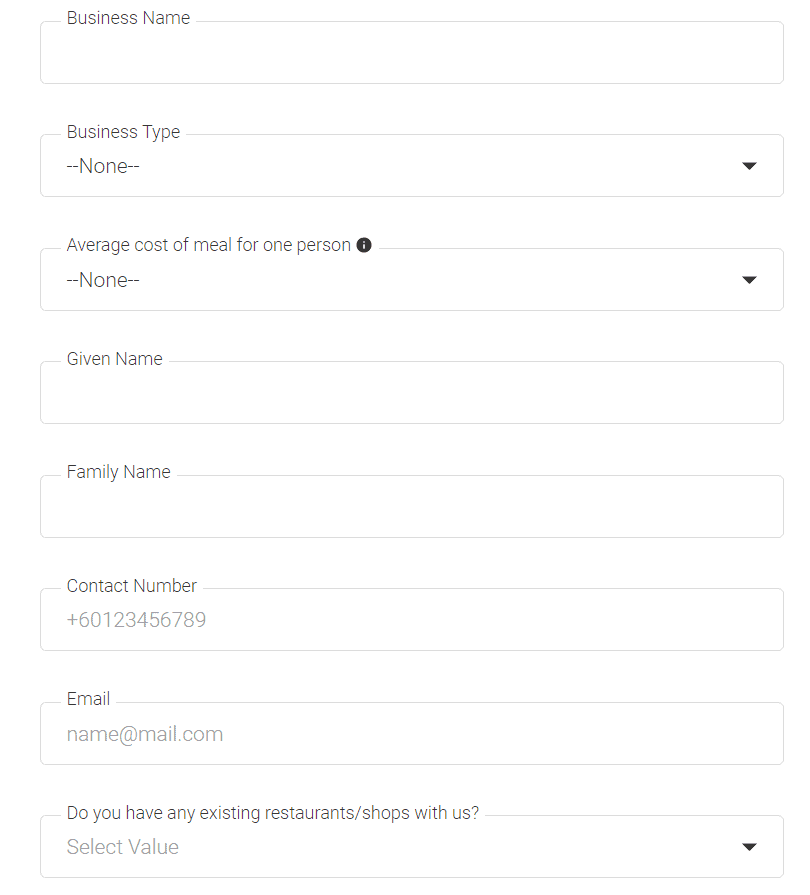 Final Step: Once everything is complete, you may click on "Submit" and you're done with the process. foodpanda will then review your application and you will be notified on the activation process once it's all set.
Essential documents required to register as a foodpanda merchant
Ensure that you submit details of your shop establishment registration at the time of verification as well as include related photos for Foodpanda to put up in their portal.
Proof of Owner's identification related documents
Documents provided by the government that can help proof your personal identification number and other related information.
Owner's bank account details
Ensure you provide details and transactions made from your bank account as it would be needed in the near future.
Information related to shipment or delivery charges, service charges, packing charges and tax availed will be required as a form of verification.
Why you should partner with foodpanda
Convenience – Who doesn't love it when everything can be done and delivered via your mobile phone? It's a no brainer that food delivery naturally becomes visually more appealing when you're hungry. Because guess what? When your tummy's grumbling and you no longer have the patience to dress up and go out, the next best option is to tap, tap away and your food arrives!
"Free" Marketing – You worry less about the marketing you have to do to boost your restaurant's sales. When you partner with foodpanda, they will be the ones who plan out the marketing strategies for you instead. Becoming one of their merchants will allow you to see a sharp increase in sales and in a nutshell, save you cost on needing to constantly plan out strategies to boost your traffic.
Increased credibility – As foodpanda is widely known as one of the leading brands in the online food delivery space, your credibility naturally increases as majority of the customers already know of this platform. And what's better? Lesser time needed to create your own advertisements to convince new customers to try out your food.
Delivery driver is provided – Less overhead, money saved and problem solved. You no longer have to specifically hire a designated driver to pick up your food and deliver it on time. With foodpanda, convenience and efficiency is their priority so restaurant owners can properly focus on preparing their food instead.
Worry less about reduced foot traffic – By offering delivery to new and existing customers, you no longer stress about the income lost from not having enough dine ins. This is a sure win for majority of restaurants especially when inconvenience is no longer the obstacle that deters customers from coming back.
To wrap things up..
We see a rise in delivery services which proves one thing: A demand for food delivery. As we all know, customers are increasingly becoming drawn to convenience because of their busy lives which means the need for food being delivered in the comfort of their own home/workplace is turning into an ideal option. In desperate circumstances, they would even be willing to pay a high delivery fee if it means they could save up extra time avoiding heavy traffic. Moreover, delicious food from a faraway location seems much more attractive when you could pay someone to get it for you.
If you're still considering whether or not to join the bandwagon of the delivery world, you're definitely missing out on extra sales! Whether you decide to partner up with a food delivery service platform or not, you should make the choice based on how much your restaurant will benefit from it, if your customer base is wide enough that it requires food delivery, venue type and your location.